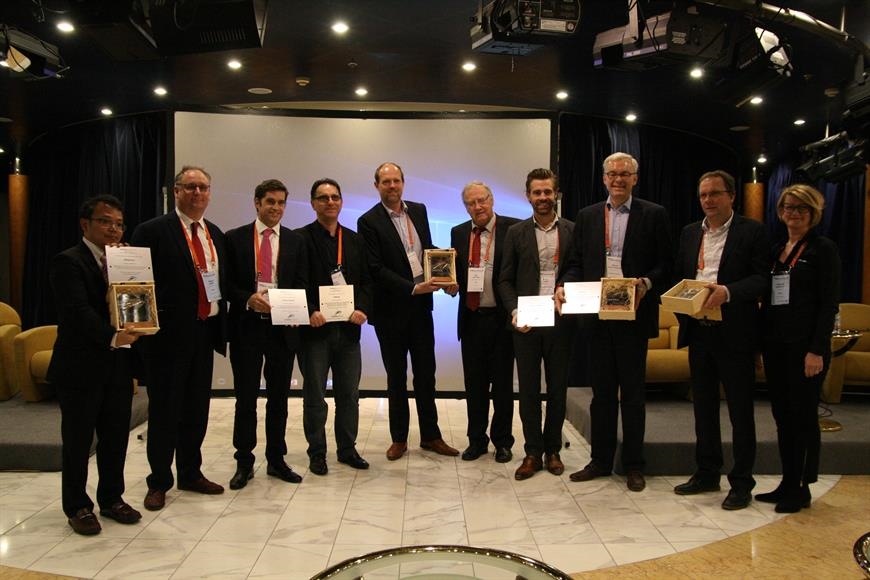 Shippax Award 2017
Our annual Award ceremony was held on board LA SUPERBA, during the Ferry Shipping Conference 2017.
With the awards Shippax wants to acclaim new concepts, creativity and innovation.
TEXELSTROOM
Has been awarded for:
The unique CNG/diesel hybrid propulsion system and the innovative T-shaped cross section allowing for a higher car intake.
Additionally, TEXELSTROOM boasts an attractive exterior and interior design with the ship's designers being inspired by the vibrant Wadden area.
Owner: Texels Eigen Stoomboot Onderneming (TESO)
Naval Architects: C-Job Naval Architects
Interior architects: Vripack
Shipyard: LaNaval
BERLIN
Has been awarded for:
Being the first truly hybrid ro-pax newbuilding that can be operated completely on battery power while in port, significantly reducing the noise and environmental profile.
BERLIN also has a novel hull form that offers the best compromise between minimum resistance, manoeuvrability and redundancy.
The light and open public spaces are contemporary and far from traditional.
Owner: Scandlines
Shipyard: Fayard
Interior architects: AIA
VISION OF THE FJORDS
Has been awarded for:
The ship's eco-friendly electric propulsion, in combination with a truly unique and attractive design and deck lay-out that has resulted in ample open deck space.
Owner: The Fjords DA
Shipyard, naval architects and interior architects: Brødrene AA
SPITSBERGEN
Has been awarded for:
The successful conversion of an unfinished ferry into a fully-fledged expedition cruise ship, complete with a strengthened hull. Essentially a new ship, SPITSBERGEN also features a crisp and stylish interior.
Owner: Hurtigruten
Shipyard: Fosen Yard
Naval Architects: Knud E. Hansen/Fosen Yard
Interior architects: Tillberg Design
AIDAprima
Has been awarded for:
Being the world's first cruise ship that operates on LNG when in port.
AIDAprima has been specifically designed to sail 365 days per year in Northern Europe, something that is another industry first.
Owner: Carnival Maritime GmbH/Aida
Shipyard: Mitsubishi Heavy Industries
Interior Architects: Partner Ship Design
AUTO ECO
Has been awarded for:
Being the world's first LNG-powered PCTC, illustrating the commitment of UECC's parent companies to boost their environmental profiles.
Owner: UECC
Shipyard: Nantong COSCO KHI Ship Engineering Co.