Shippax Database
Over 50 years of accumulated ship information easily accessible through our online database. The Shippax Database online is the most comprehensive passenger shipping database available on the market. Updated continuously throughout the day, the database now contains more than 7,300 active ships, 3,100 GA-plans and 16,000 financial transactions. This database offers more details than you will find anywhere else.
All cruise, ferry, ro-ro and high-speed vessels trading worldwide are featured – including all the details you need.
Listing of vessels on order are present. Photos and GA-plans are attached for the majority of the vessels in the database, readable and printable in pdf format.
Shippax Database also includes a history of financial transactions: contract prices, S & P prices, TC rates, presented in chronological order.
All information can be exported, making it possible for you to create your own personalized reports.
The Shippax Database is available to order in our Webshop.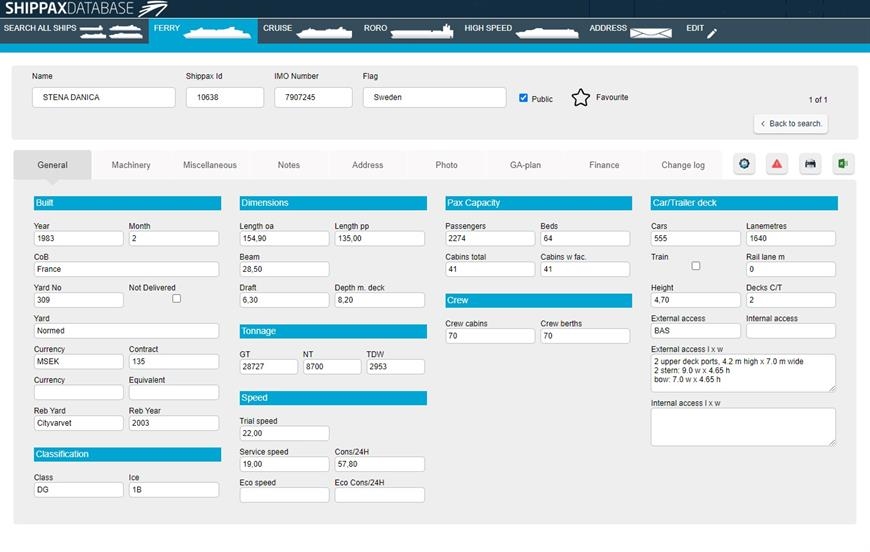 Press Releases
Dec 03 2021
Construction begins of Silversea Cruises SILVER NOVA
---
Dec 03 2021
Contract awarded for piers upgrade for new Islay ...
---
Dec 03 2021
Zinus technology selected for two more norwegian ...
---
See all press releases