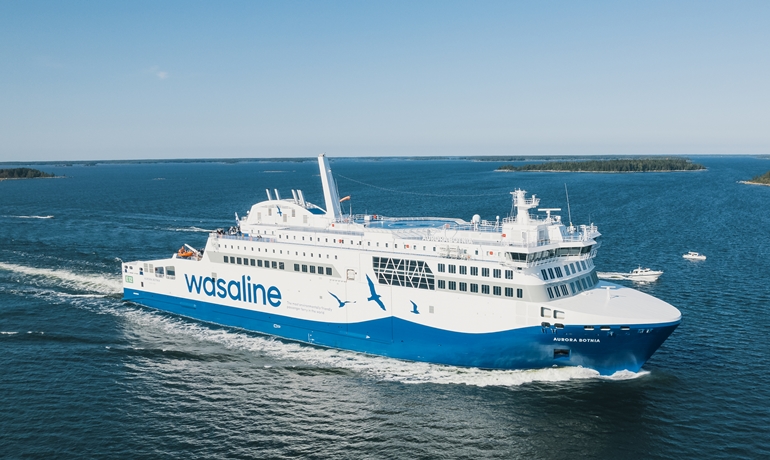 AURORA BOTNIA © Wasaline
Wasaline lifts turnover for the quarter by 165%
FinanceWasaline reported that their half-year passenger numbers increased with 471% compared to last year, while the second quarter showed an increase of 583%. Half-year turnover increased by 132% and second quarter turnover by 165%.
The cargo traffic breaks record every month, with cargo units having increased by 14.3%.
The half-year result is the best since the start of the traffic in 2013 despite that for example the energy costs have increased by 81%.
AURORA BOTNIA has operated 95 trips more than last year and the energy consumption has been about the same as on the previous ship WASA EXPRESS.
"Despite all the challenges in the world situation with increased costs, I am looking forward to the autumn. July was an absolutely fantastic month and we set new records in all segments. The previous passenger record from 2019 was broken with almost 20,000 passengers and the booking situation for the autumn looks very promising. Our staff has been absolutely fantastic, and the passenger response has been very good," says Peter Ståhlberg, Managing Director of Wasaline."
"I am happy to see that the cargo volumes in 2022 continue to increase. It is proof that we made the right decision to add more departures in the low season and that Wasaline has a very loyal freight customer base. Even though there are some uncertainties in the market, we at Wasaline have great confidence in the autumn of 2022 and the future that AURORA BOTNIA, which is one of the world's most environmentally friendly ro-pax vessels on the market, will continue to give us growth", continues Peter Ståhlberg.
"We want to say a big thank you to all passengers and cargo customers. I also want to thank all the staff who do an outstanding job on a daily basis", concludes Peter Ståhlberg.
---