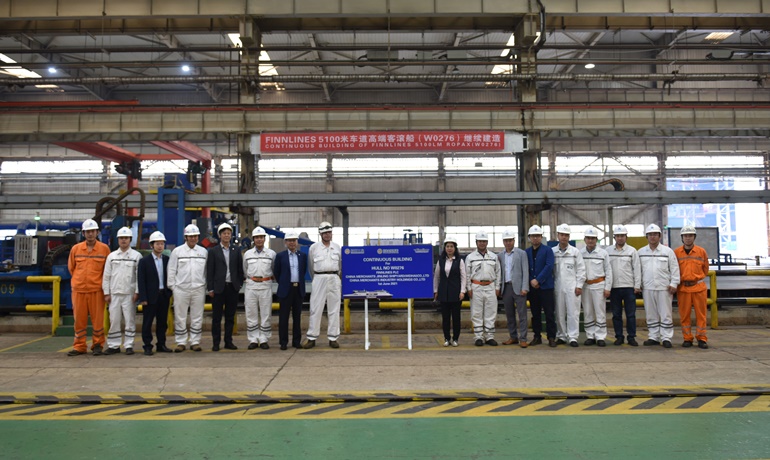 First steel cutting of FINNSIRIUS on 1 June. © CMI Jinling Weihai Shipyard
CMI Jinling Weihai Shipyard cuts first steel of FINNSIRIUS
FerryYesterday, 1 June, marked the start of the first steel cutting of yard number W0276, the first of two identical Superstar Class ro-pax ferries for Finnlines' Naantali-Långnäs-Kapellskär route.
The two state-of-the-art ro-paxes are part of Finnlines' EUR 500 million newbuilding programme, also including three modified GG5G Class mega ro-ros under construction at Jinling Yizheng.
Due to be named FINNSIRIUS and FINNCANOPUS when delivered in July and December 2023 respectively, the advanced 5,100-lanemetre and 1,100-passenger capacity hybrid ro-pax ferries will have Wärtsilä 46F main engines, thrusters and a hybrid PTO/PTI shaft generator system. As one of the ships' energy-saving features, the vessel class will also boast a Silverstream Technologies air lubrication system which on Grimaldi's GG5G Class has resulted in 5.1% fuel and emissions savings.
Besides green values, digitalisation is also at the heart of the design with the aim of developing a paperless vessel with printed materials to be replaced by digital screens and mobile services. The Superstar Class vessels will offer an enhanced customer experience to passengers, focusing on the archipelago with large floor-to-ceiling panorama windows and ample outdoor deck space. All public areas will have their own design and service concepts, including a 400m² duty-free shop, the largest in the Finnlines fleet. Among the new amenities to be offered are new cabin categories, a spa and a gym, a yoga studio and an à la carte restaurant.
Concurrent with the first steel cutting of FINNSIRIUS, CMI Jinling Weihai Shipyard and interior outfitting experts R&M Marine Interior also celebrated the start of the construction of the Superstar Class mock-up, the ultimate reference when it comes to the quality of finish of the vessels' accommodation decks.
© Shippax / PHO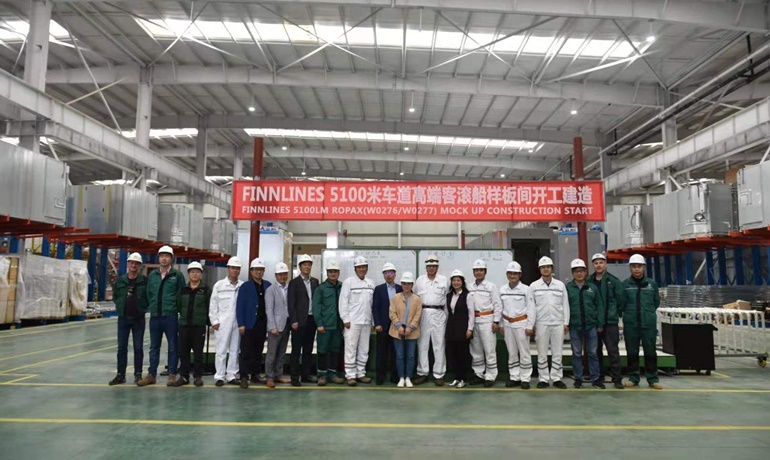 Celebrating the start of the mock-up construction for the Superstar Class in R&M Marine Interior's cabin prefabrication workshop. © CMI Jinling Weihai Shipyard
---
Most read
Press Releases
Jul 29 2021
Fincantieri 1H 2021 results
---
Jul 29 2021
MEYER WERFT puts together a package for the future
---
Jul 29 2021
Schlepp- und Fährgesellschaft Kiel awards additio...
---
See all press releases
Products