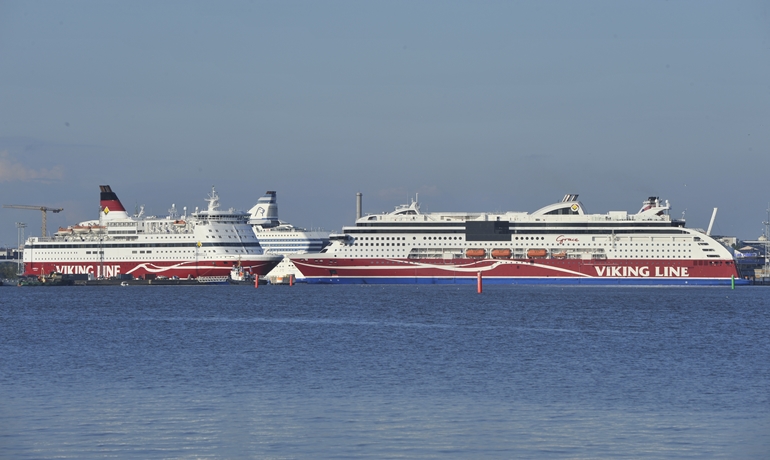 GABRIELLA and VIKING GRACE © Jukka Huotari
Viking Line H1 results
FinanceSales amounted to EUR 199.8 million (EUR 71.5 million), while operating income totalled EUR -8.0 million (EUR 4.5 million).
Other operating revenue was EUR 8.3 million (EUR 33.6 million).
Net financial items were EUR -4.7 million (EUR -2.4 million).
Income before taxes amounted to EUR -12.7 million (EUR 2.2 million).
Income after taxes totalled EUR -9.8 million (EUR 2.7 million).
Second quarter 2022 (compared to second quarter 2021)
Sales amounted to EUR 141.0 million (EUR 46.9 million).
Operating income totalled EUR 10.1 million (EUR 12.2 million).
The total number of passengers on the Group's vessels during the report period was 1,875,706 (538,348). The Group had a total market share in its service area of approximately 35.4% (32.1%).
The Group's cargo volume was 59,522 cargo units (65,214). The Group's share of the cargo market was approximately 14.5% (16.8%). The market share for passenger cars was approximately 29.4% (31.4%).
Comments from President and CEO Jan Hanses
"The beginning of 2022 was challenging. The omicron variant of the COVID virus rapidly spread through society and affected demand. Passenger volumes again declined, and we were forced to increase the degree of staff furloughs. In early February, these measures took effect, but the markets recovered in conjunction with the annual winter break. This recovery continued during the report period, and the summer got off to a promising start. On 1 March, the new VIKING GLORY launched service on the Turku–Åland–Stockholm route. The vessel has been well received by the market. VIKING GLORY has also performed well and made a significant contribution to the results for the report period, especially to second quarter earnings.   
Second quarter results improved significantly relative to comparable results for the same period last year, but also relative to those for 2019. This is gratifying since these results were achieved despite a doubling of bunker (vessel fuel) prices.
Russia's war of aggression in Ukraine has led to a sharp rise in bunker prices but has had little effect on passenger volumes. 
Furlough measures were discontinued in May, but availability of maritime staff during Viking Line's peak season has been strained. We have nonetheless been able to maintain a satisfactory level of service on all vessels during the summer. The stamina and commitment of staff have been crucial in this respect.
Despite weak results for the first quarter, the significant improvement during the second quarter has meant that, overall, the company's half-year results should be considered satisfactory given external factors affecting operations during this period and the uneven distribution of earnings generated during a normal financial year.
After the end of the report period, an agreement to sell AMORELLA was reached with Corsica Ferries. The outstanding claim receivable from Corsica Ferries since the sale of MARIELLA has finally been paid. Liquidity is currently good."
Full report https://www.vikingline.com/investors/247FD6A76E2548D6
---