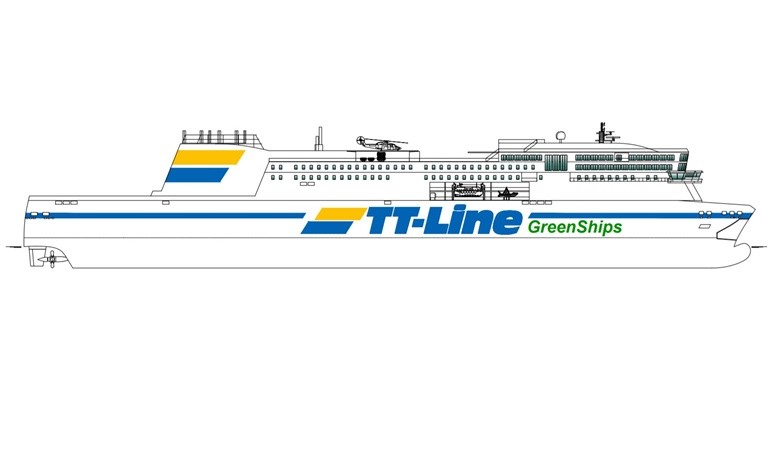 TT-Line's new dual fuel ferry to be built by Jinling. © TT-Line
TT-Line officially signs long-awaited contract for dual fuel ro-pax
FerryYesterday Shippax announced that TT-Line's order for a new generation was imminent. The German ferry operator today confirmed that it has signed a firm contract with Jingling Shipyard for a ro-pax with a capacity of 200-plus trucks and 800 passengers. The order includes an option for a sister ship.
Delivery of the newbuild ro-pax is expected in 2022, when the ship will be introduced on TT-Line's services from Trelleborg. Efficiency and flexibility will be key, the ship having a length of 230m and 31m beam. In a short press statement, TT-Line says that emissions of its 'Green Ship' will be reduced by 50% when compared to the previous generation of ro-pax vessels while still maintaining the speed.
The advanced dual fuel ship will likely use LNG as principal fuel, Bernhard J. Termühlen, TT-Line's MD, commenting on the order: "Sea transportation is the most environmentally efficient way of moving goods. TT-Line will set a new standard in terms of cutting harmful emissions by choosing LNG as a fuel for the innovative TT-Line Green Ship.  This innovative and future-oriented TT-Line Green Ship will be the most environmentally friendly ro-pax ship in our trading area."
TT-Line will receive funds from the LNG funding programme of the German state, a factor that has influenced the decision to order the ship. The funding will be provided by the 'mobility and fuel strategy' of the Federal Government of Germany and will serve to absorb the additional costs for the installation of LNG-related technology.

OSK-ShipTech is responsible for the ship's (concept) design with a particular emphasis on flexibility and fast turnarounds in ports.
© Shippax / PHO / PR
---
Most read
Press Releases
Jul 07 2020
Carnival Cruise Line Sets Ship Delivery Changes A...
---
Jul 07 2020
ALMACO and SteriPower announce partnership
---
Jul 06 2020
Wärtsilä brings its marine technology expertise t...
---
See all press releases
Products