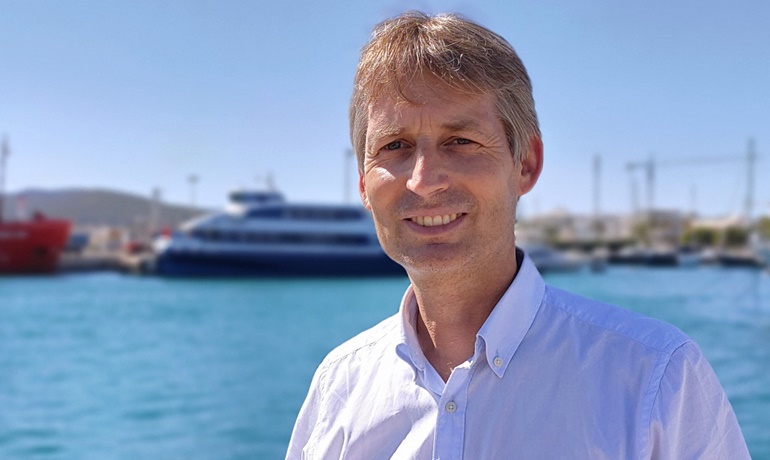 With Marcos Marí Washbourne's at the helm of Trasmapi, the Spanish ferry operator's fleet has grown to ten ships. © Trasmapi
Trasmapi is ready for expansion
InterviewOne week after Trasmapi's surprise acquisition of the Incat 86m wave piercing ro-pax catamaran CONDOR RAPIDE, Shippax's Philippe Holthof met with CEO and president Marcos Marí Washbourne to discuss the company's expansion plans.
Through Insotel Marine Group (IMG), part of the family-controlled Grupo Empresas Alonso Marí, S.A. or Insotel Group – a group also active in the hospitality sector, controlling eight luxury hotels and resorts, ferry offshoot Servicios y Concesiones Marítimas Ibicencas, S.A., trading under the Trasmapi banner, has been focussing on the Ibiza-Formentera inter-island traffic ever since its first passenger ship BURLÓN – an unfinished fishing vessel converted into a 300-passenger capacity ferry – entered service in 1974. Operating over 14,000 crossings per year or up to 29 return sailings per day between Ibiza and Formentera, the seven-ship Trasmapi fleet transports about one million passengers per annum.
Trasmapi's Ibiza-Formentera service is operated by six modern passenger-only fast craft and a ro-pax catamaran but with the recent acquisition of CONDOR RAPIDE and the 73m high-speed ro-pax catamarans FAIRWEATHER and CHENEGA from the Alaska Department of Transportation and Public Facilities, the company is clearly turning a page in its 47-year history as it eyes an expansion beyond the heavily competitive Ibiza-Formentera trade.
With the yet to be renamed CONDOR RAPIDE being readied for service at the Rodman Polyships yard in Meira, Vigo and FAIRWEATHER and CHENEGA on their way to Spain, it was still too early days to comment on the plans the company had up its sleeve with these new acquisitions, yet 51-year-old Marcos Marí Washbourne did not deny nor confirm it would tap into the mainland Spain-Ibiza/Formentera trade.
Given their capacities – CONDOR RAPIDE has an intake of 741 passengers and 175 cars, FAIRWEATHER and CHENEGA in their current configuration each have a capacity of 250 passengers, thirty-one 6.1m long vehicles and three vans – the ships are likely too big for the short-distance and already well-served Ibiza-Formentera route. FAIRWEATHER and CHENEGA, which are expected to arrive in Ibiza sometime between 16 and 20 August, will see their capacities increased with a hoistable car deck likely to be installed on the 4.5m high vehicle deck.
So, the acquisition of the three craft is clearly part of a bigger picture and according to Marí Washbourne, the plan was to have three ships from the outset. "We needed three ships to operate what we had in mind. We are pretty confident that we got what we needed," Marí Washbourne said. "Unlike certain other operators, we have a long-term vision – we are not here for the quick money," he told Shippax while keeping his cards close to his chest, adding that the company had no plans to further expand the fleet in the short to medium term.
Trasmapi's passenger-only fast craft are purpose-built for the trade and Marí Washbourne said the three new ships joining the fleet were kind of stopgap solution to test the new service the company had in mind. "But one day, these ships will be replaced by purpose-designed ships," he revealed, not excluding hybrid technology.
Following their delivery by the semi-submersible heavy lift vessel RED ZED I, FAIRWEATHER and CHENEGA will be prepared for their new role with FAIRWEATHER to be ready in September and CHENEGA to follow in December. CONDOR RAPIDE is expected to be introduced already this summer as the vessel only requires minor cosmetical modifications. All three ships will be renamed, but Marí Washbourne had no clue yet about the ships' new names. "Thinking about new names has not been a priority so far," Marí Washbourne commented. "Getting FAIRWEATHER and CHENEGA from Alaska to here has been a huge challenge – on account of COVID-19 we even couldn't inspect the vessels ourselves. However, I can confirm that they are in immaculate condition and the project was excellently managed by US-based consultancy naval architects Elliott Bay Design Group. The ships will arrive in Spain with lots of spare parts that are stowed on the vehicle decks."
An in-depth interview with Marcos Marí Washbourne will be published in the next issue of ShippaxInfo, by which time the plans Trasmapi has with its three new fast craft will be official.
© Shippax / Philippe Holthof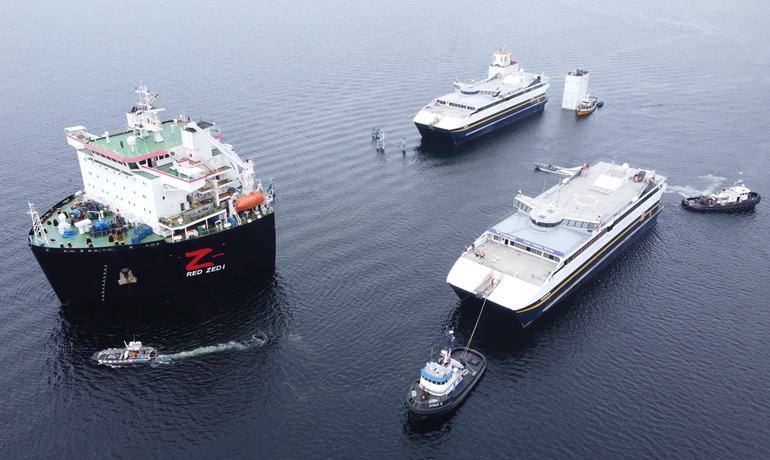 FAIRWEATHER and CHENEGA will be delivered home by the semi-submersible heavy lift vessel RED ZED I. © Trasmapi
---