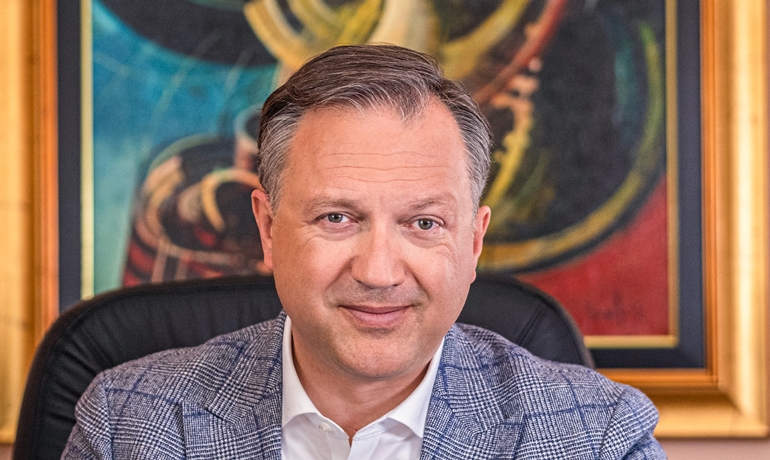 David Sopta © Shippax
Quick Q&As – David Sopta
InterviewThis interview with David Sopta, President of the Management Board of Jadrolinija, was first published in the May 2021 issue of our monthly magazine Shippax Info.
Name: David Sopta
Position: President of the Management Board of Jadrolinija
Age: 50 (turning 51 in June)
Zodiac sign: Gemini
Civil status and family: Married, two daughters
Place of birth: Rijeka, Croatia
Could you briefly introduce yourself and tell us about your career path?
Since 2017 I have been the President of the Management board of Jadrolinija, Croatia's largest passenger shipping company. Through my career I gained experience in business development and in corporate management. Also, I was Deputy Minister in the Croatian Ministry of Foreign Affairs. I am looking forward to continuing my professional career in Jadrolinija by creating a stronger company which relies on its tradition, but can also withstand the challenges of the future.
Croatia is a popular summer holiday destination with tourists flocking to the islands. Jadrlolinija carried a record number of passengers in the past years. But then COVID-19 hit us in 2020. What has been the impact of COVID-19 on Jadrolinija's carryings and financial results? What are your expectations for 2021 and beyond?
The greatest challenge of the Coronavirus crisis was, naturally, the reduced traffic and the decrease in income. Thanks to successful business operations in the previous years, we were well-prepared for these 'testing times'. Clearly, the areas which are most affected by this crisis are tourism and transport. Yet, Jadrolinija's ships continued to provide connections with the Croatian islands on a daily basis. Our ships are currently operating on the off-season schedule and we are preparing for the increase in traffic as summer approaches. Although there are still some strict measures ongoing, we believe there is room for optimism regarding the upcoming months. The international trains and planes are slowly resuming traffic to Croatia, and the booking trends are picking up. We believe this trend will grow in the summer, which is no surprise since the Croatian coast and islands have much to offer.
Fewer tourists, also means fewer supplies are required on the islands – how has the domestic freight market performed in the past and this year?
The investments in the economic development of the Croatian islands have been an important government strategy in recent years. That is why, even during this crisis, freight transportation was still active. Nevertheless, we have noted a decrease in freight transport during the high season compared to the record 2019, but still the results were more positive than the initial predictions.
A few years ago, newbuilding projects were revealed, including one for a 900-passenger and 200-car capacity ro-pax that would service the islands of Hvar, Korcula, Vis and Lastovo. Are newbuildings still in the pipeline, our will you rather continue to source tonnage on the second-hand market?
When we talk about the second-hand market, the ships can be fully operational within months which is very quick compared to newbuildings. Also, the advantage of used ships, aside from the speed of project implementation and proven maritime abilities, is economic profitability. That's why we have to track the second-hand market continuously but, at the same time, we don't neglect the development of newbuildings.
In 2019, Caronte & Tourist of Italy tried to penetrate the Croatian domestic market, but failed to do so on account of red tape. How liberalised is the Croatian domestic ferry market? Are you prepared for new competitors entering the market?
The Croatian domestic ferry market was liberalised 2013. Thirty-four lines on which Jadrolinija is currently operating were all won, so Jadrolinija confirmed its position as the leader on the Adriatic. We manage to maintain this position thanks to our large fleet, containing ships that meet the various port and route conditions requirements. Moreover, Jadrolinija is a company with more than 70 years of tradition, which implies a rich experience of operating along the Mediterranean coasts. This gives us a strong know-how, making us the most suitable provider for the majority of routes.
You operate one of the largest domestic ferry fleets in Europe. Of late, you have acquired double-enders from Greece. This is a quick and efficient way to renew the fleet – is this the way forward, i.e. are there more former Greek ferries on the shopping list?
When choosing a second-hand ship for purchase, we consider whether the ship fits into our strategic goals, whether it is economically viable and whether its capacity and speed can meet all the technical requirements, but also whether the ship can increase the service quality for the passengers. We are very proud that we managed to introduce three new ferries in the past two years.
Your three-ship international fleet has an average age of 40 years. Under the previous management, there were plans to replace at least one ferry, the 1973-built MARKO POLO, by a newer ro-pax. What's today's situation?
Jadrolinija's business plan puts the renewal of the fleet as a top strategic goal. It is the constant renewal of the fleet, but also the investments in the existing ships, which are crucial for Jadrolinija to maintain its position as a leader. This renewal plan also includes the ships for international routes and we are actively searching suitable tonnage. I must also emphasize that all the ships, including MARKO POLO, are regularly maintained in Croatian shipyards and meet all the requirements from international and Croatian regulatory bodies.
What are your favourite pastime activities?
Since my childhood I have loved basketball and I still enjoy it.
What was your childhood dream job?
I was always interested in mechanics, so I wanted to be an engineer.
What music do you like?
I enjoy jazz and rock music. I'm looking forward to going 'back to normal' and attending various concerts.
Where do you typically spend your summer holidays?
On one of the beautiful Croatian islands. You can never choose the wrong one.
What is your favourite dinner and drink combination?
Fresh Croatian fish and Croatian wine.
---
Most read
Press Releases
Oct 07 2022
Cruise Baltic makes it easier to choose onshore p...
---
Oct 07 2022
Wärtsilä to provide Latvian company with biogas u...
---
Oct 07 2022
ABB and Incat sign LOI to develop lightweight hyb...
---
See all press releases
Products