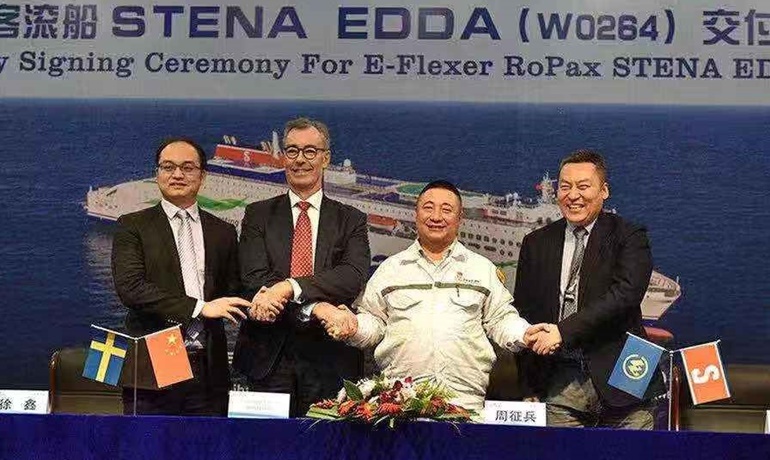 Hand-over ceremony of STENA EDDA on 15 January. © Stena RoRo
Stena takes delivery of second E-Flexer
FerryHot on the heels of the introduction of STENA ESTRID on the Holyhead-Dublin route, Stena Line has taken delivery of its second E-Flexer on 15 January, exactly two months after the official hand-over of STENA ESTRID by builders CMI Jinling Weihai Shipyard.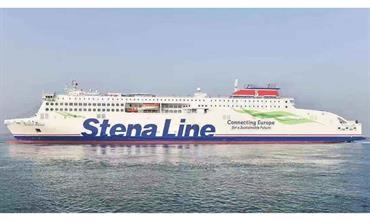 STENA EDDA © Stena RoRo
The plan was to take over STENA EDDA on 20 January, just ahead of the Chinese New Year, but the builders managed to deliver the 41,671gt vessel five days early. STENA EDDA will soon set sail for the Irish Sea where she will be introduced on Stena Line's Birkenhead (Liverpool)-Belfast domestic service, replacing the Visentini Class STENA LAGAN which will then be sent to Sedef Shipbuilding in Turkey for lengthening.
The next E-Flexer in the row to be delivered is GALICIA, an adapted version which will be taken on long-term charter by Brittany Ferries for its services from Portsmouth to Spain. Delivery of GALICIA is scheduled for the third quarter of this year. Towards the end of this year, STENA EMBLA, the fourth E-Flexer, will be delivered and will join STENA EDDA on the Birkenhead-Belfast service early next year.
Like STENA ESTRID, STENA EDDA has a capacity of 3,100 freight lanemetres and 120 cars on a separate car deck. The 214.5m long and 27.8 m beam vessel can carry 1,000 persons with 175 cabins being available for its passengers.
So far Stena Line has ordered nine E-Flexers in total, five of which will operate under the Stena Line banner (including two lengthened versions), three will be long term-chartered by Brittany Ferries (including two LNG-powered), with one to be long-term chartered by DFDS for Calais-Dover service.
© Shippax / Philippe Holthof
---
Most read
Press Releases
Dec 03 2021
Construction begins of Silversea Cruises SILVER NOVA
---
Dec 03 2021
Contract awarded for piers upgrade for new Islay ...
---
Dec 03 2021
Zinus technology selected for two more norwegian ...
---
See all press releases
Products