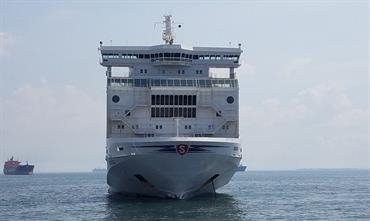 SAGA @ Manila bay Quarantine Anchorage
Stena RoRo converts SAGA into an accommodation vessel for operation in Manila Bay

Dec 29 2021
Ferry
The mystery surrounding the future of Stena Line's ro-pax SAGA (ex STENA SAGA) has been revealed. The 1981-built ferry has been converted by Stena RoRo in Perama, Greece, in a co-operation agreement with Vancouver-based Bridgemans Services Group, into an accommodation vessel for a charter of just over one year in Manila, the Philippines.
You are not logged in
Login in or become a member to read all the articles on shippax.com
Access to our online news service
Extended search function
Instant access after purchase
And much more!