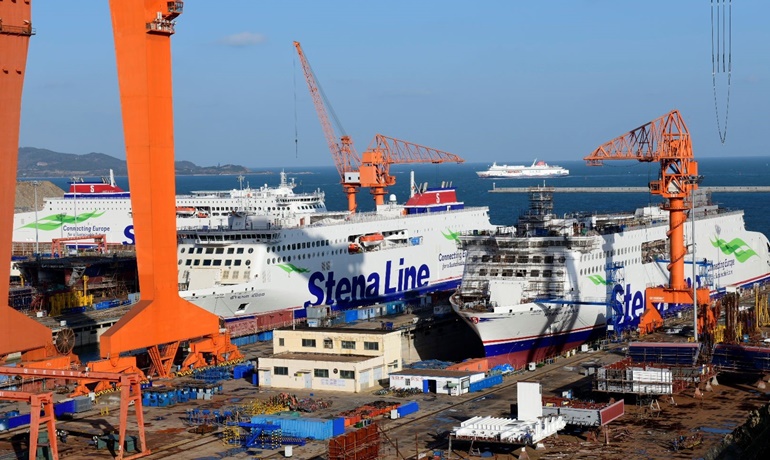 Four ro-pax ferries built by CMI Jinling Weihai Shipyard - left to right: STENA ESTRID, STENA EDDA and STENA EMBLA. In the background is the 2018-built NEW GRAND PEACE, the first ever ro-pax built by the yard. © CMI Jinling Weihai Shipyard
Sneak peek of STENA ESTRID
FerryCMI Jinling Weihai Shipyard, formerly known as AVIC Weihai Shipyard, has sent Shippax the following video of Stena Line's brand-new STENA ESTRID.
STENA ESTRID, the first E-Flexer in a series of nine with two more options, was handed over to Stena Line on 15 November and will set sail for the Irish Sea soon. As the vessel is not yet in commercial service, a few shots from existing Stena Line operations have been included in the video.
We would like to thank CMI Jinling Weihai Shipyard for sharing this video with us.
In March this year Shippax made a special report about the Stena E-Flexer Class in our monthly magazine, ShippaxInfo. With the recent delivery of STENA ESTRID we happily make this issue available for everyone. You can find this issue on the link below. Enjoy the reading! https://www.shippax.com/en/publications/latest-shippax-cfi-online.aspx
© Shippax / Philippe Holthof
---
Most read
Press Releases
Jun 03 2020
KiwiRail's newbuilding project of two rail-enable...
---
Jun 03 2020
Tallink adds more early morning and afternoon dep...
---
Jun 03 2020
SGMF publish guidelines for the safe dry docking ...
---
See all press releases
Products