Second of P&O Ferries Dover-Calais newbuilding giant double-enders building in China floated out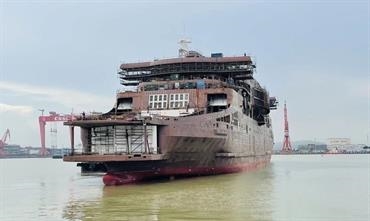 P&O LIBERTE float out © P&O Ferries
Second of P&O Ferries Dover-Calais newbuilding giant double-enders building in China floated out

Jul 27 2022
Ferry
The second of P&O Ferries giant double-enders for its flagship service, Dover-Calais, has been floated out at China's Guangzhou Shipyard International. The 47,394gt P&O LIBERTÈ, is expected to enter service at the end of 2023, about six months after her sister ship P&O PIONEER.
You are not logged in
Login in or become a member to read all the articles on shippax.com
Access to our online news service
Extended search function
Instant access after purchase
And much more!