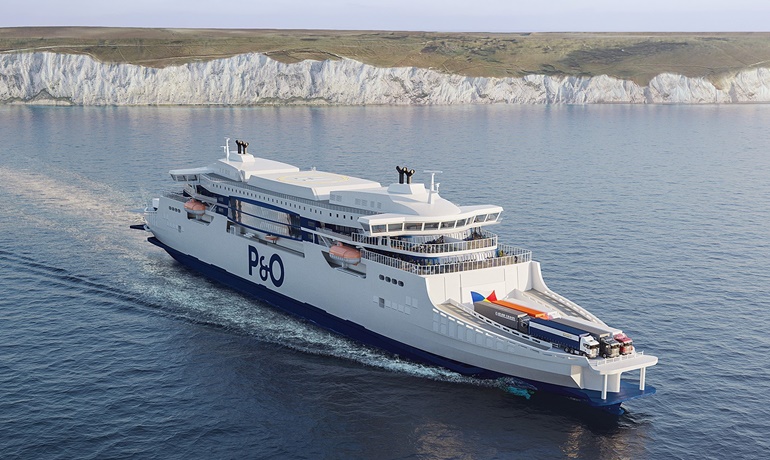 The world's largest double-enders are expected to be delivered in 2023. © P&O Ferries
P&O Ferries unveils artist's impressions of Dover-Calais newbuilds
FerryP&O Ferries has unveiled the first official artist's impressions of the hybrid battery-powered double-enders which they ordered at the Chinese Guangzhou Shipyard International (GSI) shipyard in late September 2019.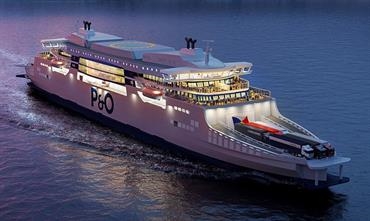 © P&O Ferries
Early renderings of the OSK-ShipTech-designed newbuildings already started to circulate on the Internet shortly after P&O Ferries had placed the EUR 260 million double order. The official illustrations are somehow a little different and a remarkable feature is that P&O Ferries has re-introduced lifeboats – both the 2011/12-built Spirit Class and the Darwin sisters boasted a liferaft-only solution.
When delivered in 2023, the 230m long vessels will be the world's largest double-enders and the largest ferries ever to sail on the 90-minute, 21-nautical-mile Dover-Calais route, albeit their freight and car intakes will be similar to the Spirit Class with two freight decks and a separete upper car deck.
Hailed as the most sustainable ships ever to sail on the English Channel, the vessels will cut fuel consumption by about 40% through a combination of fuel and battery propulsion with large battery packs below the main deck that will be charged by peak shaving. A heat recovery system will save fuel and hence reduce the ship's carbon footprint by using a steam system to provide heating for ULSFO fuel heaters, fuel tanks, FO/LO purifier heaters and HVAC system reheating. In addition, a heat pump will be used for HVAC system preheating, domestic hot water, machinery rooms, and technical spaces below Deck 8 – the lower passenger deck. The ships are futureproofed to become carbon neutral providing extra battery capacity will be installed and plug-in facilities are available in both Dover and Calais.
The next-generation vessels will have a maximum capacity of 1,500 passengers with the lay-out of the public spaces on decks 8 and 9 being extremely 'flexible' with up to two-thirds of the passenger facilities that can be closed. A power management system will use innovative software to turn off the lighting and ventilation in empty areas, further optimizing the utilization of engines, batteries and energy recovered from waste heat.
The passenger decks are characterized by signature double-height windows running around the entirety of the midship, allowing natural daylight to flood in and offering passengers spectacular sea views. To enhance the travel experience, there will be plenty of outside deck space equivalent to 1,550m².
P&O Ferries holds an option for two more vessels of the same class.
© Shippax / Philippe Holthof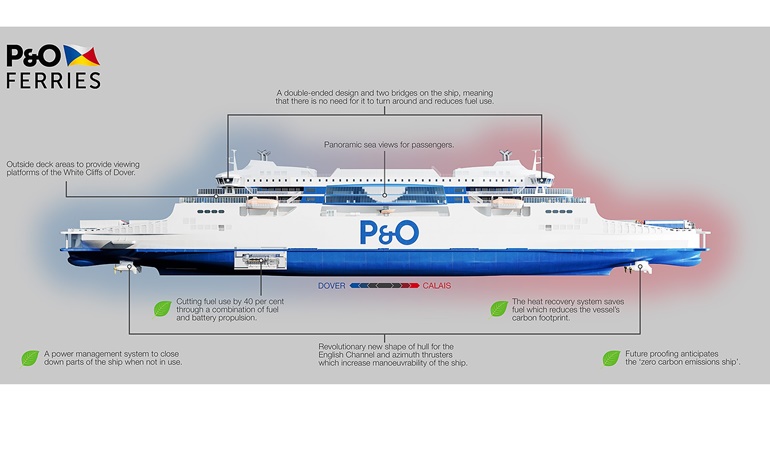 © P&O Ferries
---
Most read
Press Releases
Feb 25 2020
Høglund to supply Rauma Marine Construction gas s...
---
Feb 25 2020
The Port of Marseille Fos, Costa Group and Pôle M...
---
Feb 25 2020
HVCC, Wärtsilä and Carnival achieve real-time dat...
---
See all press releases
Products