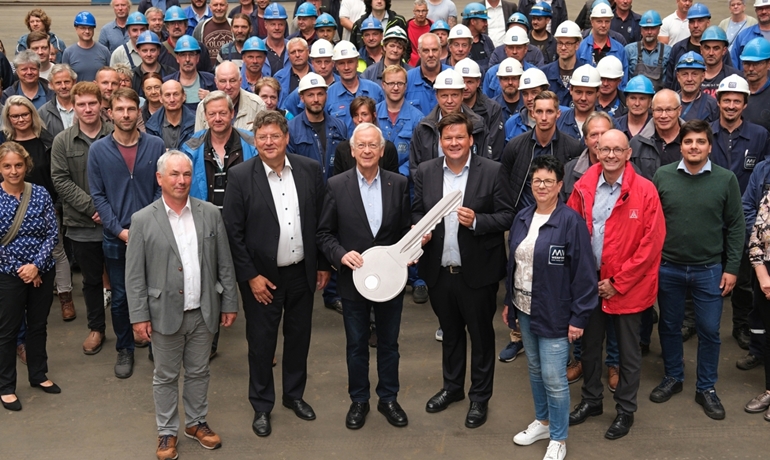 © Andreas Laible
MV Werften Wismar: handover of symbolic key to Meyer Wismar
YardThe insolvency administrator of the MV Werften Group, Dr Christoph Morgen, handed over the symbolic key of the Wismar shipyard to Bernard Meyer of Meyer Wismar on 1 August. The shipyard, which has been owned by TKMS since June 2022, has been leased back by the insolvency administrator and subleased to Meyer Wismar for the completion of the cruise vessel located in the dock hall. Present at the handover were approximately 400 employees, who are as of today employed by Meyer Wismar.
"Over the course of the past year, we set up good solutions for the three shipyard locations in Mecklenburg-Western Pomerania, Neptun Ship Design in Rostock, the prefabricated module plant in Wismar, the hotel in Wismar, as well as for Lloyd Werft in Bremerhaven," Dr Christoph Morgen, explained. "With the handover of the shipyard to Meyer Wismar we're now marking the beginning of the next shipyard chapter."
Together with the shipbuilders, Reinhard Meyer, Minister of Economics of the federal state of Mecklenburg-Western Pomerania, also attended this important step for the future. He said, "The symbolic handover of the keys is the result of the successful and joint work of all stakeholders for the employees and the shipyard. At the same time, this handover of keys confirms the actions of the state government. We firmly believe in the future of the maritime industry in Mecklenburg-Western Pomerania in the interest of the employees and the industry of our state."
Insolvency administrator Dr Christoph Morgen also announced that the mass loans granted by the state government of Mecklenburg-Western Pomerania for the shipyards in Wismar and Rostock-Warnemuende amounting to around EUR 13 million plus interest, will be repaid in full in August 2023. These had been granted for the establishment of the transfer company, which itself was a prerequisite for the result now achieved.
---
Most read

The second of P&O Ferries two new double-ended giants for its Dover-Calais service has been delivered
Nov 29 2023
Seizure of the GALAXY LEADER PCTC chartered by NYK
Nov 21 2023
Products