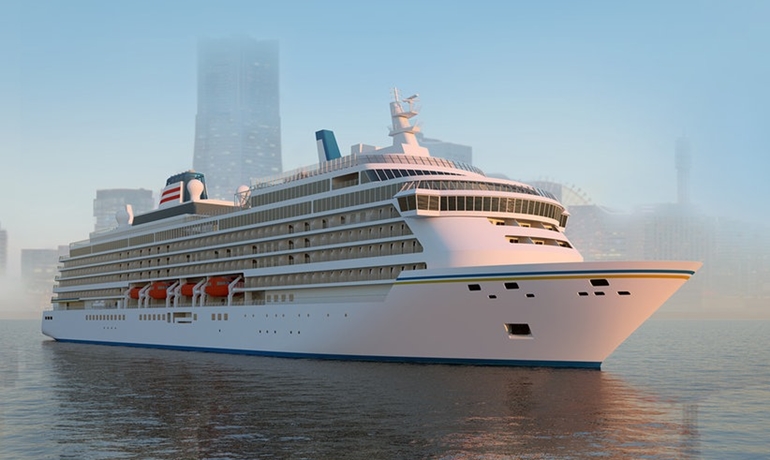 To be delivered in 2025, the newbuilding for NYK Cruises is expected to be named ASUKA III. © Meyer Werft
Meyer Werft lands order from NYK Cruises
CruiseAfter a year of total limbo in the cruise ship building industry with zero orders in the wake of the COVID-19 pandemic, Meyer Werft announced that it had 'virtually' inked a contract with NYK Group in Japan for the construction of a luxury 51,950gt, 744-passenger capacity cruise ship, set to join NYK Cruises in 2025.
NYK divested itself from Crystal Cruises in 2015 but still operates the 1990-built, 870-passenger ASUKA II. The LNG-powered newbuilding, similar in size to the Spirit Class of luxury cruise ships built by Meyer Werft for Saga Cruises, is expected to be named ASUKA III, most likely replacing ASUKA II, completed by Mitsubishi Shipbuilding as NYK's/Crystal Cruises' CRYSTAL HARMONY.
The cruise ship for NYK Cruises will have a length of 228.86m, 29.8m beam with a maximum of 744 passengers accommodated in 385 cabins. The total number of crew will be 470.
To finance the construction of this newbuild, NYK Cruises expects to secure JPY 60 billion (USD 540 million/EUR 463 million) from Sumitomo Mitsui Trust Bank as well as 29 regional banks with another JPY 11 billion (USD 99.75 million/EUR 84.95 million) to come from the financial markets.
Commenting on the NYK Cruises order, Meyer Werft MD Jan Meyer said: "It is another very important step towards securing the Papenburg site. New orders are absolutely necessary for our current programme for the future with enormously important savings and very many different measures.
"The current newbuilding order is not a turnaround from our difficult situation. In Papenburg we are designed for the series production of very large cruise ships. Now we are building the prototype of a small ship without the option of sister ships. Therefore, it is to be classified as another step among many necessary measures."
Imke Knoop, Meyer's Head of Sales & Design said: "The pandemic allows shipping companies all over the world to freely choose shipyard locations. The challenge is to survive with our combination of design, quality, innovation and, of course, under ever-increasing price pressure in the face of worldwide, sometimes heavily subsidised, competition."
"Of course, we are delighted about the newbuilding order, but at the same time we have to push ahead with our future programme, continue to convert and optimise the shipyard so that we can also deliver the ship with economic success," explained Thomas Weigend, MD of Meyer Werft.
© Shippax / PHO / PR
---
Most read
Press Releases
May 12 2021
Deltamarin is proud to be part of Höegh Autoliner...
---
May 12 2021
Quiet Milestone
---
May 12 2021
Grimaldi fleet: RINA certifies the improvement of...
---
See all press releases
Products