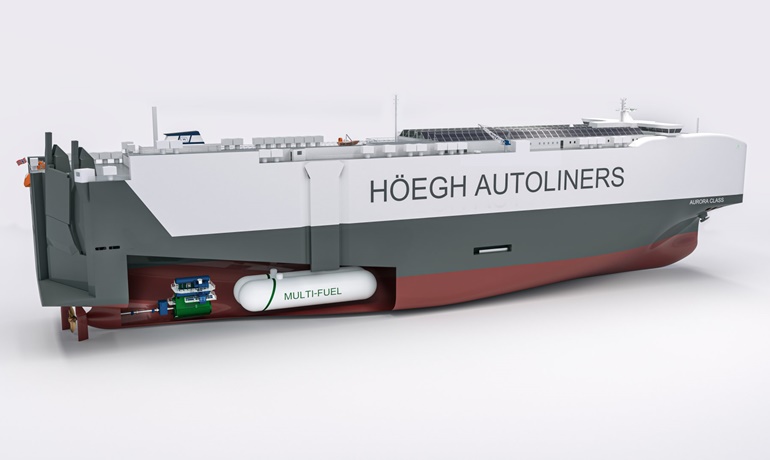 The shape of things to come for Höegh Autoliners. © Höegh Autoliners
Höegh to order world's largest and most environmentally friendly PCTC
Ro-roHöegh Autoliners has announced its new Aurora Class of PCTC which, with a capacity of 9,100 CEUs, will be the largest in the world and the most environmentally friendly.
Again, Höegh has partnered with Xiamen Shipbuilding, DNV and Deltamarin for the newbuilding project, the first unit expected to be delivered in 2023. The design is very much based on their previous Horizon Class 199.9m long by 36.5m beam sextet built by Xiamen in 2015-16, but are likely to be up to 30m longer.
The new class will be powered by LNG and have two large LNG tanks but, in an industry first, they will be classed as ammonia-ready. The multi-fuel MAN B&W two-stroke engine, together with the tanks and auxiliary systems, can be easily adapted for e-ammonia when it becomes more widely available. The new class will also feature other eco features, including a large battery pack and an array of solar panels on deck.
Just as the Japanese majors are making their first steps with LNG and WWL is going for wind-powered PCTCs, Höegh has gone in a different direction, combining unprecedented economies of scale and the lowest carbon footprint per transported car but with a clear path to zero emissions.
© Shippax / JSL
---
Most read
Press Releases
Jun 14 2021
Commuters travelling between Finland and Estonia ...
---
Jun 14 2021
Stena Line eases mouth mask requirements for pass...
---
Jun 14 2021
More orders in Norway for Cavotec's next generati...
---
See all press releases
Products