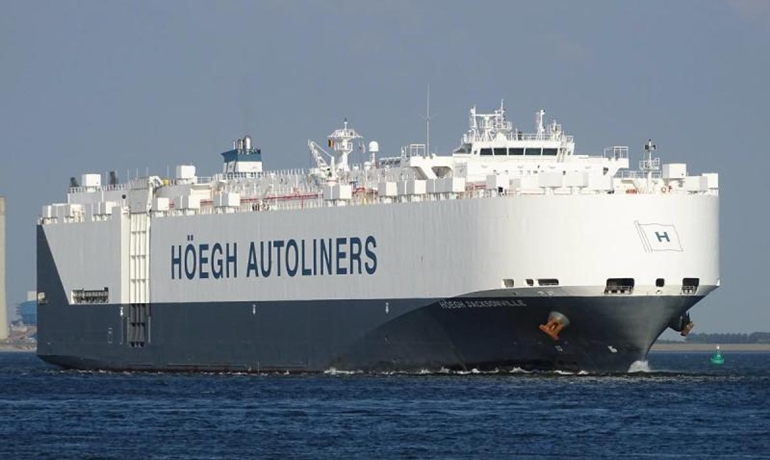 HÖEGH JACKSONVILLE © Höegh Autoliners
Höegh Autoliners sells HÖEGH BANGKOK and buys HÖEGH JACKSONVILLE
Ro-roHöegh Autoliners ASA, has reached an agreement for the sale of the vessel HÖEGH BANGKOK for a price of USD 63 million. They also declared an option to purchase the vessel HÖEGH JACKSONVILLE from Ocean Yield for a purchase price of USD 43.22 million.
HÖEGH BANGKOK was constructed by Höegh at the Uljanik shipyard in 2007 and has a capacity of 6,500 CEU. She is sailing under the NIS flag and is unencumbered.
Per 30 September, the average market value of HÖEGH JACKSONVILLE was USD 84 million. HÖEGH JACKSONVILLE was built in 2014 with a capacity of 6,500 CEU and is one of the company's best performing vessels when it comes to emissions. The company intends to finance the purchase price fully by mortgage debt through its fleet credit facility.
"The purchase of HÖEGH JACKSONVILLE reconfirms our strategy of building long-term commitments with our customers based on a modern fleet which we own and control. The transaction is cash neutral, enables the realisation of value gains from our lease options, and will allow for better capacity cost control", says CEO Andreas Enger
The sale of HÖEGH BANGKOK is in line with the company's strategy to renew its fleet in anticipation of the first Aurora class vessel being delivered in July 2024. The transaction is made possible because the time to delivery of the first Aurora vessels is sufficiently short to build capacity bridges to maintain the company's service to contract customers. As there is no debt attached to the vessel, the transaction will increase the company's cash balance when the vessel is delivered to the new owner by year-end 2023.
Following the transactions, Höegh Autoliners will continue to operate a fleet of 36 vessels, consisting of 31 owned vessels and 5 under long-term BB and TC leases. The company will expand its fleet with four new Aurora multifuel vessels between July 2024 and March 2025 adding 36,400 CEU of capacity and another four Aurora vessels with another 36,400 CEU of capacity by mid 2026.
"The transactions represent good opportunities for us to optimise our asset portfolio in preparation for the first Aurora deliveries. We will retain our focus on serving core contract customers while seeking opportunities to optimise our long-term fleet composition and capital structure", says CEO Andreas Enger.
© Shippax
---
Most read

The second of P&O Ferries two new double-ended giants for its Dover-Calais service has been delivered
Nov 29 2023
Seizure of the GALAXY LEADER PCTC chartered by NYK
Nov 21 2023
Products