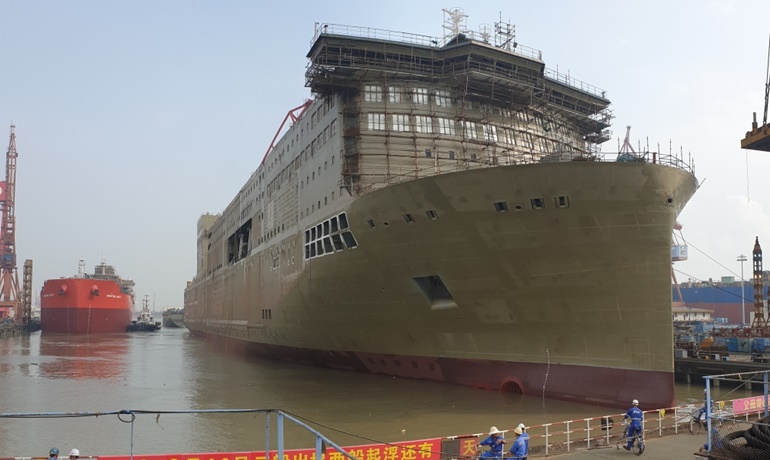 DFDS's new 4,500-lanemetre and 600-passenger capacity Baltic Class vessels will load via the stern only. © DFDS
GSI floats out DFDS's first Baltic Class ro-pax
FerryDFDS's first of two Baltic Class ro-pax ferries under construction at China's Guangzhou Shipyard International (GSI) was floated out from its building dock on 31 August.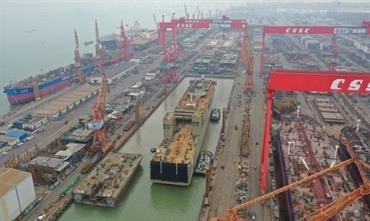 © DFDS
Following the float-out of the first ship, construction of ship number two – the keel of which was laid in April – will gather pace. The 54,900gt, scrubber-equipped pair have a capacity of 4,500 lanemetres and 600 passengers each. Two hundred and fifty passenger cabins offer a total of 690 beds.
The 230m long and 31m beam Baltic Class ro-pax ferries will replace 2,600-lanemetre and 900-passenger capacity Apuania Class tonnage on DFDS's Baltic routes from Klaipeda to Karlshamn and Kiel. When the DKK 1.8 billion (EUR 241 million) investment in both vessels was first announced in February 2018, it was stated that the ships would be delivered during Q1 and Q3 of 2021, respectively.
© Shippax / PHO
---
Most read
Press Releases
Jun 29 2022
MacGregor signs a five-year service agreement wit...
---
Jun 29 2022
Brittany Ferries confirms its 2022-2023 fleet pla...
---
Jun 29 2022
Tallink's ro-ro passenger vessel SAILOR to underg...
---
See all press releases
Products