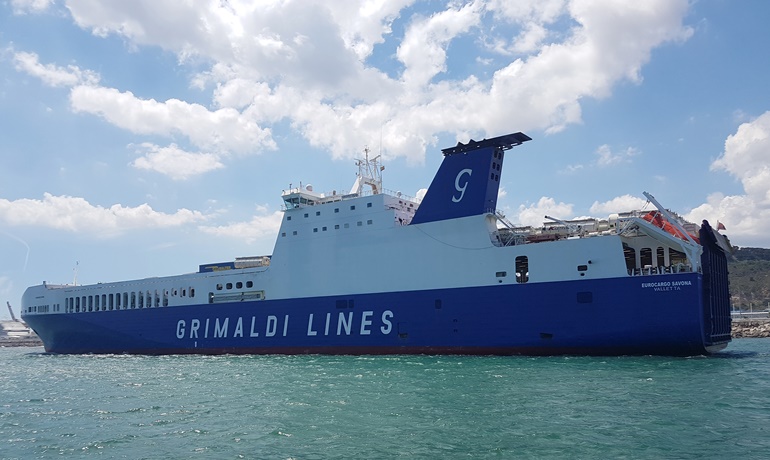 EUROCARGO SAVONA is on its way to the Baltic via Bristol, joining the Finnlines fleet later this month. © Marc Ottini
Grimaldi adds capacity on Saint Petersburg line, reveals names of new ro-paxes
Ro-roDuring a long interview with Shippax, to be published in full in ShippaxDesigns, Grimaldi Lines managing director Emanuele Grimaldi announced a further expansion plan for Finnlines, the group's Finnish offshoot. He also revealed the names of the new state-of-the-art ro-pax ferries ordered for the Kapellskär-Långnäs-Naantali route.
The 3,735-lanemetre EUROCARGO SAVONA, until yesterday (31 March) serving the Genoa-Salerno-Palermo-Catania route, has been chartered by Finnlines until the end of this year to serve the four times weekly Rostock-Hanko route, replacing the 3,240-lanemetre FINNPULP (or sister ship FINNMILL) which will be transferred to Finnlines' TransRussiaExpress service.
Connecting Lübeck and Travemünde with Saint Petersburg, calling at Kotka on the way back, the TransRussiaExpress service is currently primarily served by the 4,192-lanemetre FINNSKY, making a weekly roundtrip. With the addition of a permanent second ship, two weekly crossings can be offered as Finnlines has experienced an increased demand for shipments to Russia.
EUROCARGO SAVONA will remain on charter to Finnlines until FINNECO I, the first of three GG5Gs adapted for Finnlines service, joins the Finnlines fleet around the turn of the year. The introduction of FINNECO I will allow a fleet cascading and the subsequent introduction of FINNECO II and III a further increase of capacity on certain routes, including Gdynia-Hanko which will see the frequency increase from three times to six times weekly. Grimaldi re-confirmed to Shippax that the Finneco ships would be employed on the Bay of Biscay-North Sea-Baltic service.
Emanuele Grimaldi also said that the Superstar Class ro-pax ferries ordered at the CMI Jinling Weihai Shipyard would be named FINNCANOPUS and FINNSIRIUS. "These Superstar ships will be best-in-class and will therefore be named after the brightest stars in the Galaxy," he said.
On another note, he told Shippax that on Sunday it was decided to re-route the recently delivered Jinling-built ECO SAVONA, the fourth GG5G to join Grimaldi Lines in the Mediterranean, via the Cape of Good Hope, avoiding the Suez Canal congestion caused by the EVER GIVEN grounding.
Following the arrival of ECO SAVONA at Livorno later this month, Grimaldi Lines will introduce one of the four GG5Gs on the Genoa-Livorno-Catania-Malta route, gradually increasing capacity on this north-south MoS prior to the arrival of ECO CATANIA and ECO MALTA, ships number five and six in the GG5G series. On the Italy-Spain MoS, connecting Livorno and Savona with Barcelona and Valencia, in addition to three GG5Gs, Grimaldi Lines will initially retain a 3,810-lanemetre Hyundai Mipo Class.
© Shippax / Philippe Holthof
---
Most read

The second of P&O Ferries two new double-ended giants for its Dover-Calais service has been delivered
Nov 29 2023
Seizure of the GALAXY LEADER PCTC chartered by NYK
Nov 21 2023
Products