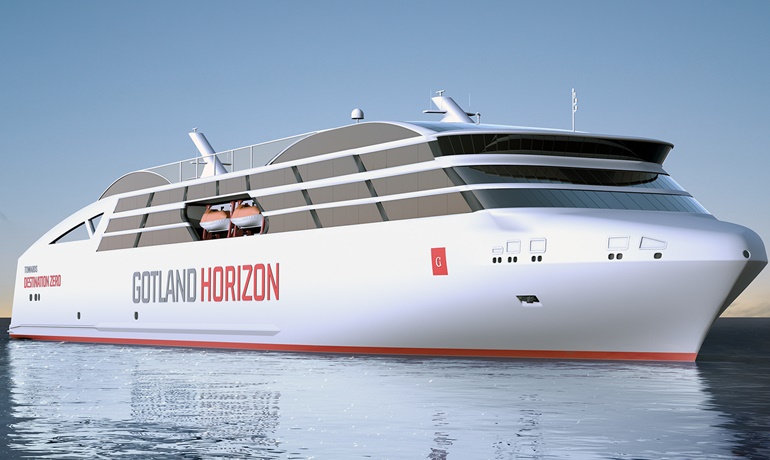 GOTLAND HORIZON - the ship of the future for emission-free Gotland traffic
FerryGOTLAND HORIZON will be Sweden's first large-scale hydrogen-powered vessel for both passengers and freight, with water as the only emission. The new concept vessel enables an emission-free Gotland trip as early as 2030.
GOTLAND HORIZON is the project name for the ships of the future for the Gotland traffic, developed by Rederi AB Gotland, Destination Gotland and Gotland Tech Development, designed to be powered by fossil-free hydrogen. With gas turbines in combination with steam turbines, the goal is that traffic to and from Gotland will continue at the same speed and service as today, but without negative emissions. In addition, the gas turbines, through their multi-fuel function, are prepared to handle other types of fossil-free fuels in step with technological development and the availability of various fuels.
-We are proud to be able to present our future ship project today to reduce emissions to zero, GOTLAND HORIZON. We are convinced that technological development will enable emission-free shipping, and our work to develop a concept for an emission-free vessel is a very important part of being able to create a climate-neutral Gotland traffic, says Håkan Johansson, CEO of Rederi AB Gotland.
The GOTLAND HORIZON project is run by Rederi AB Gotland, which has the ambition of being able to order a ship as early as 2025, to go into Destination Gotland's traffic by 2030. Fossil-free operation is the only alternative for Gotland traffic going forward, both from an environmentally and economically sustainable point of view.
-When CO2 emissions are priced for shipping, and new requirements and regulations come into place, it will become increasingly expensive to run on fossil fuels. An important development to bring about climate change. It therefore feels very good that we can be involved in leading the change, and enable a fossil-free crossing for all Gotland travelers, says Marcus Risberg, CEO of Destination Gotland.
A crucial part of the success of shipping is the development of the climate-smart ships of the future with new fuel technology. Therefore, Rederi AB Gotland focuses on new collaborations across industry boundaries and pushes for increased access to fossil-free fuels. Gotland Tech Development, part of Rederi AB Gotland, aims to run projects within the framework of shipping change.
-The development of future emission-free vessels for Gotland traffic is crucial for our climate work. The goal of climate neutrality will be achieved through a combination of phasing out fossil fuels on existing vessels and by taking new emission-free vessels into service, says Marcus Risberg, CEO of Destination Gotland.
The ambition is for the ship to be built with materials produced with the least possible climate impact, while at the same time being operated completely without emissions. With GOTLAND HORIZON, shipping is taking a big step towards being able to contribute to reduced emissions in the entire Baltic Sea region, where more ships can become fossil-free.      
GOTLAND HORIZON
- 1,900 passengers
- Space for 600 cars and 100 trucks
- Service speed of up to 28 knots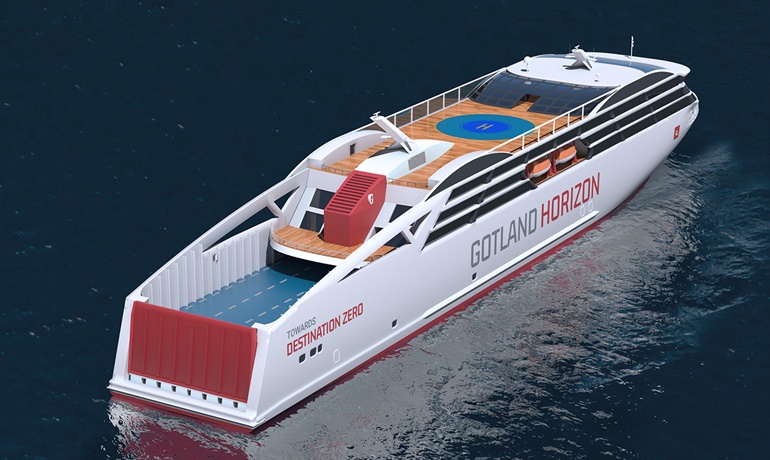 ---