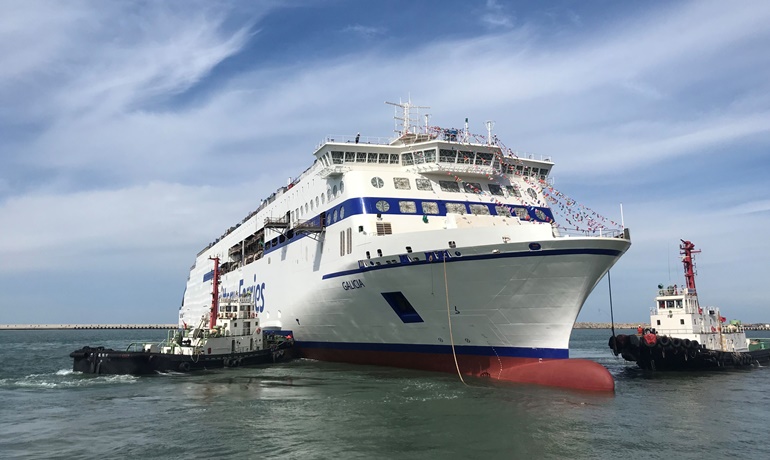 GALICIA - yard number W0267 - being towed to the SY 5 outfitting quay © AVIC SHIP
GALICIA floated out
FerryAs Shippax earlier reported, the AVIC Weihai Shipyard yesterday (10 September) held a double ceremony for the floating of GALICIA on the one hand and the first steel cutting of SALAMANCA on the other.
Due to strong winds it was decided to delay the floating out of GALICIA from the Number One building dock. Weather circumstances were much better today, 11 September, and the Chinese shipbuilder was so kind to send us a selection of photos which we hereby share with our readers.
GALICIA is void of Brittany Ferries' new logo on the hull and funnel. Rather than painting the logo with its fading colour, UV resistant stickers with the logo will be added when the ship will be drydocked prior to her delivery.
Brittany Ferries will long-term bareboat charter GALICIA and SALAMANCA from Stena RoRo. The former ship is expected to enter service after the 2020 summer season whilst the latter is expected in spring 2022. The French ferry operator will also long-term bareboat charter a third E-Flexer, to be named SANTOÑA.
Many more photos and video available at Shippax' facebook site https://www.facebook.com/shippax/
© Shippax / PHO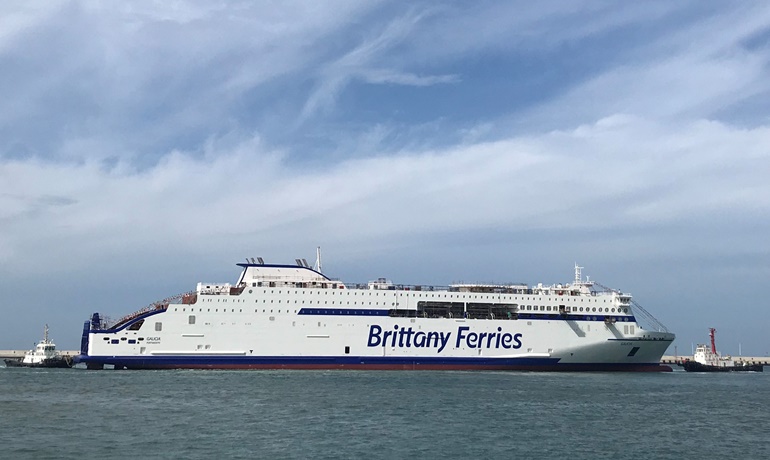 GALICIA is the third E-Flexer © AVIC SHIP
---
Most read
Press Releases
May 29 2020
Finnlines is an integral part of Finland's securi...
---
May 29 2020
Estonians, Finns and Swedes keen to holiday in ne...
---
May 29 2020
European Commission acknowledges strategic import...
---
See all press releases
Products