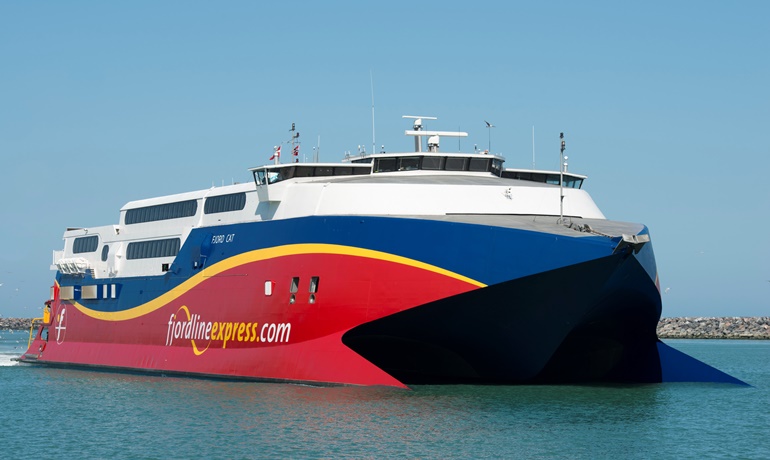 FRS is investing EUR 15 million in the Sassnitz-Ystad high-speed service and will operate FJORD CAT. © Frank Lose
FRS to start Sassnitz-Ystad high-speed service in September
High-speedFörde Reederei Seetouristik (FRS) has confirmed that it will start a Sassnitz-Ystad high-speed ferry service on 15 September, filling the gap left by Stena Line after the permanent closure of its passenger-oriented Sassnitz-Trelleborg route.
The historic Sassnitz-Trelleborg service was also known as the 'Königslinie' or 'Kungslinjen' and this name will be revived for FRS's Sassntiz-Ystad operation which will be marketed as FRS Königslinjen. Adding the high-speed element means that crossing times between Rügen and the Swedish south coast will be cut from about four hours and 15 minutes to two hours and 30 minutes, making it the fastest crossing between Germany and Sweden.
Up to two departures per day will be offered in each direction, using the 1998-built Incat 91m wave piercing catamaran FJORD CAT which has a capacity of 676 passengers and 210 cars, with sufficient deck height to carry campers and caravans. FJORD CAT now operates on a service that offers duty-free sales, therefore boasting a large shop. In statement, FRS said that there would be a varied gastronomic offer. As port facilities need to be adapted and Fjord Line still requires FJORD CAT during the summer season, FRS will only start its new ferry service in mid-September, initially offering one departure per day. Two departures will be offered as from spring 2021.
FRS said that choosing for Ystad rather than Trelleborg, made the route more attractive for German day-trippers. The company is investing EUR 15 million in FRS Königslinjen, getting the full support from the port authorities and local politicians. The investment cost also covers the acquisition of FJORD CAT from Fjord Line, which will replace the ro-pax high-speed catamaran  by the much larger Austal Auto Express 109m catamaran FJORD FSTR. FJORD CAT will be handed over to FRS on 25 August.
© Shippax / PHO
---
Most read

CLdN to start new Teesport service from Zeebrugge / Rotterdam and significantly expand capacity to Purfleet
Mar 14 2023
DFDS to launch new Izmir - Sète ro-ro route on 2 April 2023
Mar 14 2023
Products