The last ro-pax vessel built by FSG? HONFLEUR seen leaving Flensburg under tow on 25 October. © Fank Behling
Fosen Yard to complete HONFLEUR
FerryOne day after HONFLEUR left Flensburger Schiffbau-Gesellschaft (FSG), Fosen Yard has confirmed that they will outfit and complete the dual fuel-powered ro-pax vessel that was supposed to be delivered to Brittany Ferries in June 2019.
Known as hull number 774, Brittany Ferries and SOMANOR annulled the EUR 200 million contract with FSG in June. With the 1,680-passenger and 2,400-lanemetre capacity vessel now in the hands of Siem, the Norwegian shipowner has entered into an agreement with Fosen Yard to complete the unfinished ro-pax.
The ro-pax left Flensburg under tow yesterday, 25 October, and is expected to arrive in Trondheim during the weekend of 31 October-1 November.
In a press statement, Anders Straumsheim, Fosen Yard's CEO, emphasised the importance of this project for the yard industry in Norway and stated that this work was well-suited to the yard's capabilities. Kenneth Ross, Siem Group's Head of Shipping, said that the working relationship with Fosen was constructive and off to a good start.
It still remains to be seen who will be the ultimate buyer or charterer of the vessel which was purpose-designed for Brittany Ferries' Ouistreham (Caen)-Portsmouth route as a replacement for the 1992-built NORMANDIE.
© Shippax / PHO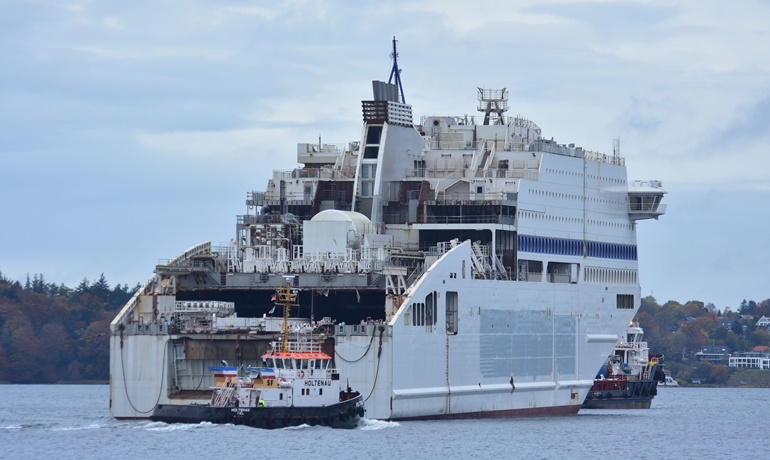 HONFLEUR on its way to Trondheim. © Frank Behling
---
Most read
Press Releases
Nov 26 2020
Hydrogen ferries might soon traffic the Baltic Se...
---
Nov 26 2020
Port of Ystad: The new port will soon be ready fo...
---
Nov 26 2020
MOL's New App Boosts Efficiency with Real-time Pr...
---
See all press releases
Products