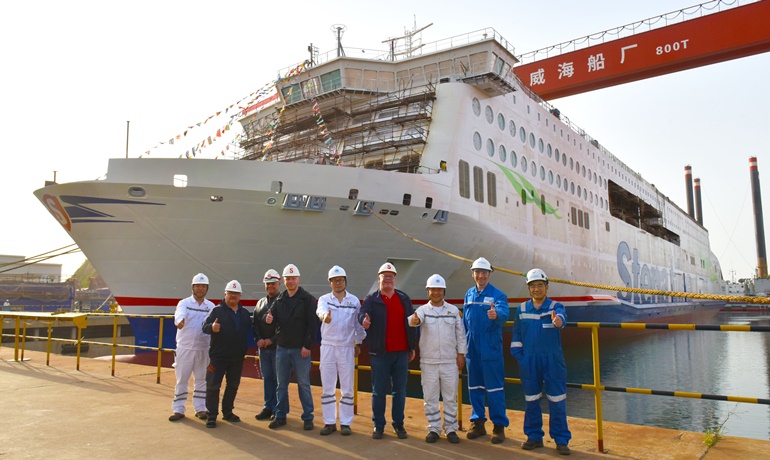 Floating of the seventh E-Flexer was planned for Monday 24 May (regarded as the official launching date by the builders) but due to high winds it had to be performed one day earlier. © CMI Jinling Weihai Shipyard
First Stena E-Flexer Mk II floated
FerryThe seventh Stena E-Flexer under construction at CMI Jinling Weihai Shipyard was floated on Sunday 23 May and is expected to be floated out of its building dock today, 25 May. The first of two lengthened versions of the successful E-Flexer series, this is the fourth E-Flexer earmarked for Stena Line service.
Although Stena Line hasn't made any official announcement yet, it is believed that the still unnamed E-Flexer will most likely operate in the Baltic. Over 25m longer than the standard E-Flexer Class, the Mk II version has a length of 239.7m and 27.8m beam. The intake increases from 3,100 to 3,600 lanemetres on three decks with a separate car deck for 200 instead of 120 cars.
The 1C Ice Class vessel has a capacity of 1,200 persons (passengers and crew) with a total of 263 passenger cabins, equivalent to 1,036 berths. The yard is setting ever more ambitious delivery targets – the first lengthened E-Flexer should be ready for delivery in March 2022, to be followed by the second Mk II version in late August of the same year.
As recently as last week, the Chinese builder delivered CÔTE D'OPALE, the fifth E-Flexer. Ships number six and nine – SALAMANCA and SANTOÑA – will be further modified versions, being LNG-powered and adapted for long-term charter by Brittany Ferries.
© Shippax / Philippe Holthof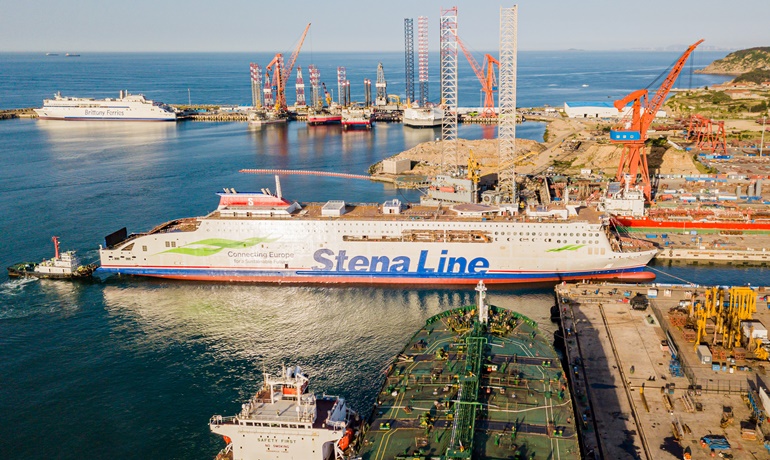 The yet unnamed yard number W0270 being pulled out of its building dock on 25 May. © CMI Jinling Weihai Shipyard
---
Most read

The second of P&O Ferries two new double-ended giants for its Dover-Calais service has been delivered
Nov 29 2023
Seizure of the GALAXY LEADER PCTC chartered by NYK
Nov 21 2023
Products