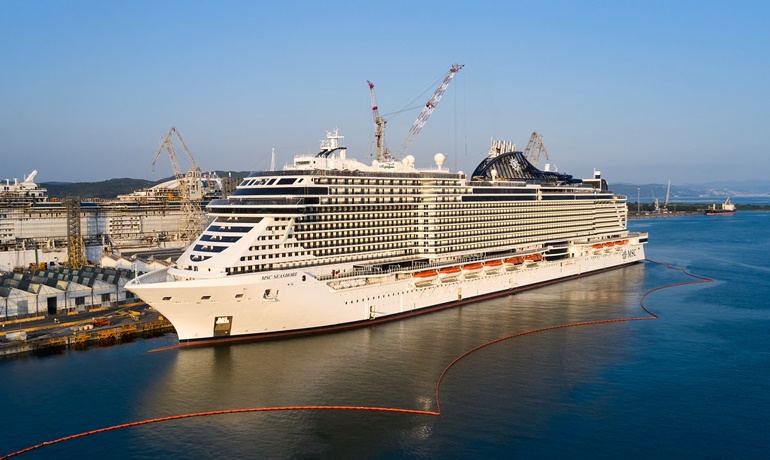 MSC SEASHORE © Fincantieri
Fincantieri delivered MSC SEASHORE, MSC Cruises' first Seaside Evo Class ship
CruiseFincantieri's Monfalcone Shipyard delivered MSC SEASHORE to MSC Cruises. MSC SEASHORE is the first of two cruise ships in the new Seaside Evo Cass which, at 339m, is the longest cruise ship in the company's fleet.
The Seaside Evo Cass is an evolution of the Seaside Class, which comprises the 2017- and 2018-delivered MSC SEASIDE and MSC SEAVIEW. More than 40% has been redesigned and enhanced in this new class, together with a 16m extended length. This gives the Seaside Evo Class an additional 200 cabins and a total of 13,000m² of outdoor space.
Many new and advanced environmental solutions have also been installed, such as a Selective Catalytic Reduction (SCR) system and a next-generation Advanced Wastewater Treatment (AWT) system. The vessel also boasts a shore power solution together with hybrid scrubbers.
Length/beam/height: 339m/41m/74m
Gross tonnage: 170,400
Guests: 5,877
Crew: 1,648
Guest cabins: 2,270
Maximum speed: 22.4 knots
Man hours required to construct the ship: over 10 million
A second Seaside EVO sister ship, MSC SEASCAPE, is scheduled for winter 2022 
© Shippax / Victor Mandersson
---
Most read
Press Releases
Sep 17 2021
Naviera Armas Trasmediterránea introduces cold ir...
---
Sep 16 2021
Wasaline develops package travels
---
Sep 15 2021
bp and NYK Line join forces to help decarbonise h...
---
See all press releases
Products