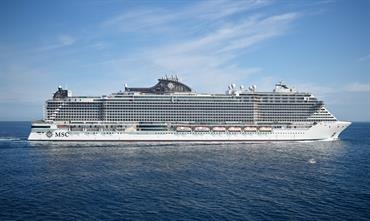 MSC SEASCAPE delivered © MSC Cruises
Fincantieri delivered MSC SEASCAPE to MSC Cruises

Nov 18 2022
Cruise
MSC Cruises officially took delivery from Fincantieri of its new 339-metre flagship MSC SEASCAPE. The vessel is the 21st to join the MSC Cruises fleet and MSC SEASCAPE is the fourth to have been built by Fincantieri as part of a EUR 7 billion investment package for 10 ships.
You are not logged in
Login in or become a member to read all the articles on shippax.com
Access to our online news service
Extended search function
Instant access after purchase
And much more!