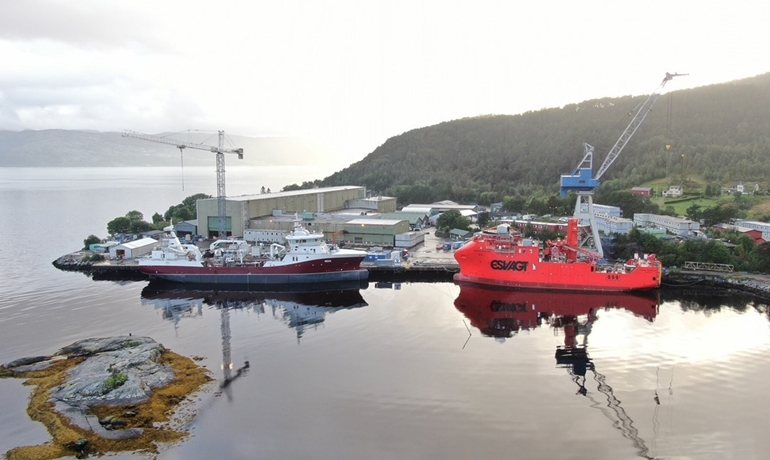 Eqva sells Havyard Leirvik yard to Tersan Shipyard
YardEqva ASA has entered into agreement to divest its Havyard Leirvik yard in Norway, reaffirming the company's strategic direction and ambition to become an industrial investment company listed on the Oslo Stock Exchange. Buyer of the Havyard Leirvik yard is the Turkish Tersan Shipyard.
"The sale of Havyard Leirvik will free up important resources, both human and financial, enabling a concentrated focus on further development of Eqva's current industrial portfolio, and look for new investment opportunities," said Even Matre Ellingsen, Chair of the Board of Eqva.
The transaction is based on a share sale, where Eqva ASA is selling its shares (100%) in Havyard Leirvik Holding AS, where the subsidiaries Havyard Leirvik AS and Havyard Leirvik Eiendom AS are included. The transaction is settled by NOK 30 million in cash.
"We are confident that Tersan will be a strong new owner for Havyard Leirvik, with a clear strategic interest in continuing its proud industrial tradition. As a leading player in the industry, Tersan has proven expertise and local knowledge from collaborating with a wide range of customers in maritime and aquaculture industries. For Eqva, it is important that we are leaving the yard in good hands," says Matre Ellingsen.
"We are looking forward to becoming part of Tersan Shipyard. It is a highly reputable company with a good standing in international shipping and maritime circles, and with a clear ambition to further strengthen its position in Northern Europe with Havyard Leirvik as steppingstone," said Tor Leif Mogstad, CEO of Havyard Leirvik.
© Shippax
---
Most read

The second of P&O Ferries two new double-ended giants for its Dover-Calais service has been delivered
Nov 29 2023
Seizure of the GALAXY LEADER PCTC chartered by NYK
Nov 21 2023
Products