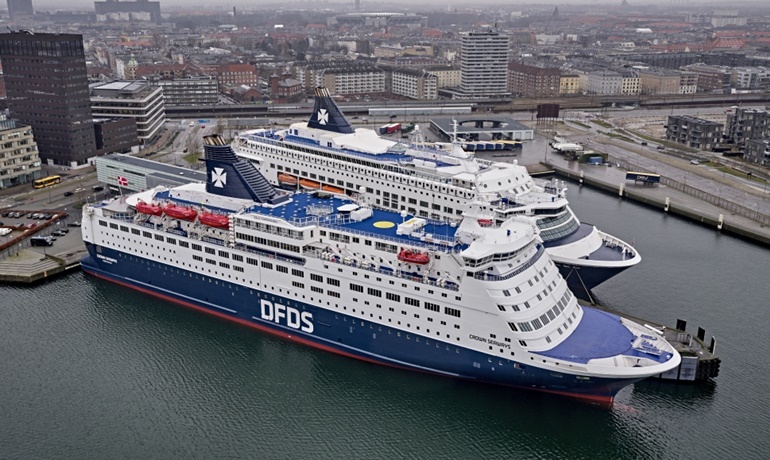 CROWN SEAWAYS and PEARL SEAWAYS have been laid up since mid-March. © DFDS
DFDS to re-start Copenhagen-Oslo route after 70-day suspension
FerryDFDS will re-start its Copenhagen-Oslo service with the first sailing from Copenhagen to be operated by CROWN SEAWAYS on 25 June. PEARL SEAWAYS will sail from Copenhagen on 26 June, the day when CROWN SEAWAYS will return from Oslo.
The Copenhagen-Oslo route was suspended in mid-March with both CROWN and PEARL SEAWAYS laid up in Copenhagen. The decision to re-start the cruise ferry service "in some reduced format", according to DFDS CEO Torben Carlsen, comes after last week's announcements from the Danish and Norwegian governments to open the borders between the two countries.
DFDS is currently investigating how the travel restrictions that apply for guests from Norway should be interpreted and administered. Physical distancing and reduced onboard services will apply which means that the number of passengers will most likely be capped, something that is still under evaluation. Due to the reduced onboard services in the start-up phase, part of the OBS and shore staff will remain furloughed. When bookings develop positively, the staffing will be reviewed.
On 22 March, DFDS also suspended its passenger-oriented IJmuiden-Newcastle route. According to Carlsen, there is no date set yet for the re-opening of this service as it will take longer than expected before travel restrictions for Brits will be lifted. 
© Shippax / PHO
---
Most read
Press Releases
Jul 02 2020
Premiere for Rolls-Royce's first MTU gas engines ...
---
Jul 01 2020
Vow ASA: Vow ASA subsidiary Scanship awarded a 7....
---
Jul 01 2020
As of 1 July, Norway permits bareboat registratio...
---
See all press releases
Products