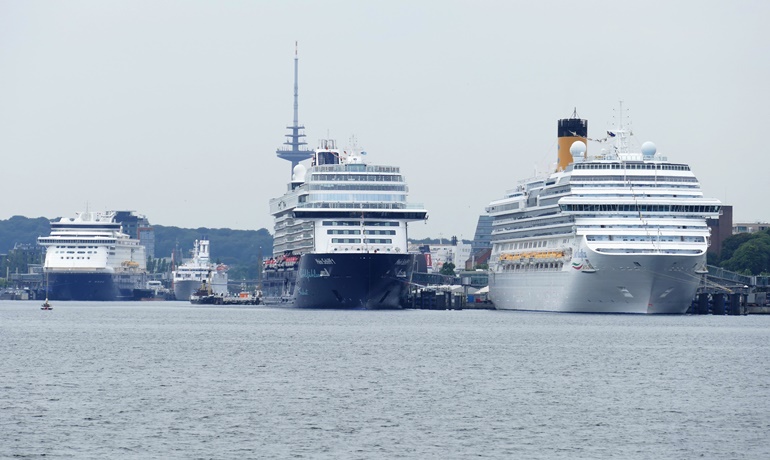 COVID-19 is getting a serious impact on the cruise and ferry industries. © Kai Ortel
COVID-19 ferry and cruise update – Friday 13 March
Ferry CruiseThe COVID-19 spread in Europe and the rest of the world starts to badly affect the cruise and ferry industries. Things are changing at a rapid pace and we will try to keep track of it, sending out regular updates. It has meanwhile led to the first ferry lines in Europe to be temporarily discontinued, notably DFDS's Copenhagen-Oslo and Color Line's Kiel-Oslo services.
Highlights of 13 March (not earlier reported):
- On 12 March, the Norwegian government announced new and strict measures in dealing with the spread of COVID-19, also advising Norwegians to postpone travels abroad. On 13 March, Color Line decided to cancel all sailings until 26 March with both COLOR MAGIC and COLOR FANTASY to be sidelined in Oslo. Freight-only sailings operated by COLOR CARRIER are not affected.
- DFDS will discontinue the Copenhagen-Oslo route, starting on 16 March until at least 1 April. DFDS said the suspension of the route followed the introduction of new national measures to stop the spreading of COVID-19 in both Denmark and Norway, underlining that 84% of its total revenue was generated from its ro-ro, port and logistics operations.
- Spain has prohibited all ferries and passenger ships from Italy, until further notice, as a result of the spread of the COVID-19 virus. Ro-pax vessels continue to operate in freight-only mode.
- Morocco has introduced a ban on all flights and passenger ferries originating from Spain, with effect this morning, 13 March. The ban includes cruise ships originating or continuing to Spanish ports. The ban affects services linking Algeciras and Tarifa with Tangier-Med and Tangier-Ville, as well Almeria with Nador, and Motril with Nador and Al Hoceima. This does not include freight-only services. Although services to Spanish enclaves Ceuta and Melilla will continue, Morocco has closed the border to both.
- Costa Cruises announced today that it would voluntary put on hold the global operations of ships, impacting voyages until 3 April.
- Norwegian Cruise Line Holdings Ltd., which operates the Norwegian Cruise Line, Oceania Cruises and Regent Seven Seas Cruises brands, announced a voluntary suspension of all cruise voyages embarking between 13 March and 11 April for its three cruise brands. 
- Starting on 14 March, Disney Cruise Line will suspend all new departures through the end of the month, affecting the company's four cruise ships.
- Windstar Cruises will suspend operations worldwide from 14 March until 30 April.
- Celestyal Cruises, for its part, is temporarily stopping its cruise activities until 1 May.
- Start-up Virgin Voyages has postponed the debut of its brand-new SCARLET LADY by four months. The ship, delivered by Fincantieri in mid-February, will now make her first commercial sailing in July.
- Viking River (and Ocean) Cruises earlier already decided to temporarily stop cruising – a few other river cruise operators have meanwhile followed suit.
© Shippax / Philippe Holthof
---
Most read
Press Releases
May 29 2020
Finnlines is an integral part of Finland's securi...
---
May 29 2020
Estonians, Finns and Swedes keen to holiday in ne...
---
May 29 2020
European Commission acknowledges strategic import...
---
See all press releases
Products