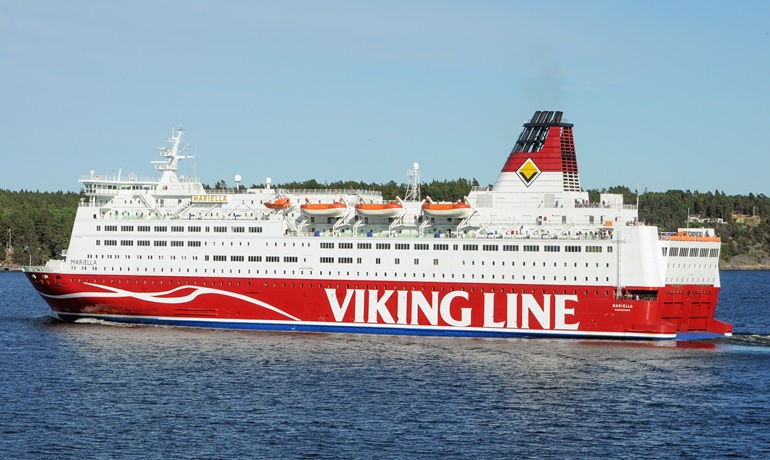 MARIELLA is leaving the Viking Line fleet soon. © Chrisitian Costa
Corsica Ferries acquires Viking Line's MARIELLA
FerryIn a surprise move, Corsica Ferries has purchased Viking Line's 1985-built overnight ro-pax cruise ferry MARIELLA. The purchase was first announced on social media by Pierre Mattei, Corsica Ferries' CEO, earlier this morning (12 May).
Mattei's message mentioned that his company had bought a Finnish ship without specifying its name. It came with a photo of what was clearly MARIELLA and not its 1986-built sister ship, Moby SPL's (SPL) PRINCESS ANASTASIA, in Corsica Ferries livery. Mattei has meanwhile confirmed to Shippax that it is the 37,799gt MARIELLA indeed. Viking Line, for its part, has also sent out a short statement, revealing MARIELLA was sold for EUR 19.6 million in a bareboat hire/purchase agreement. The vessel's book value as of 31 March 2021 was EUR 5.7 million.
Corsica Ferries already operates former Baltic ro-pax cruise ferries and MARIELLA, due to be renamed MEGA REGINA, is expected to join the Corsica Ferries fleet later this month. Following minor refurbishment and modifications, the 2,500-passenger/816-passenger cabin and 980-lanemetre/430-car capacity vessel is expected to debut for Corsica Ferries at the end of June.
MARIELLA served the Helsinki-Mariehamn-Stockholm route which has been suspended in the wake of COVID-19. It's not clear yet when the service will be resumed, but running mate GABRIELLA will make seven non-landing cruises from Helsinki to Stockholm in June, calling at Mariehamn (with the possibility to disembark) on the way back, guaranteeing duty-free sales.
Viking Line has spare capacity to replace MARIELLA, the most likely candidate being the 1989-built VIKING CINDERELLA which normally operates Stockholm-Mariehamn-Stockholm cruises. Next year, the Helsinki-Åland-Stockholm ro-pax cruise ferry AMORELLA – a near sister ship to GABRIELLA – also becomes available when replaced by the new VIKING GLORY.
Corsica Ferries told Shippax that no decision had been taken yet as to the future of the diminutive SARDINIA REGINA and sister ship CORSICA VICTORIA, built in 1972-73 and lengthened in the late 1980s.
© Shippax / Philippe Holthof
---
Most read
Press Releases
Dec 03 2021
Construction begins of Silversea Cruises SILVER NOVA
---
Dec 03 2021
Contract awarded for piers upgrade for new Islay ...
---
Dec 03 2021
Zinus technology selected for two more norwegian ...
---
See all press releases
Products