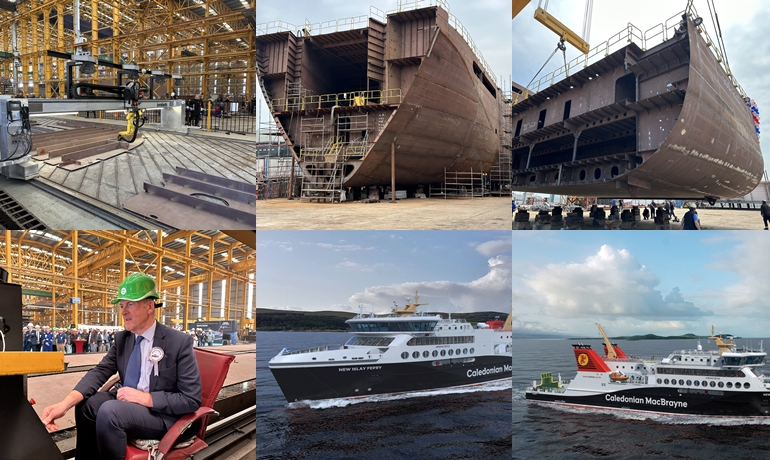 Construction milestones met for LOCH INDAAL and first of two Little Minch ferries
FerryTwo milestones were met in the construction of four CMAL vessels at Cemre shipyard in Turkey on 24 May. The first saw the keel laying for the newly named LOCH INDAAL, the sister ship of ISLE OF ISLAY, which will both serve Islay and Jura. The second marked the steel cutting of the first as-yet-unnamed Little Minch vessel.
Islay vessels
The names of the two vessels were officially chosen last week through a public vote and are now known as ISLE OF ISLAY and LOCH INDAAL. In October 2022, the first steel was cut for the ISLE OF ISLAY, and in January of this year, the keel was laid for the vessel, while the steel was cut for LOCH INDAAL.    
Construction is progressing well at the yard, with delivery of ISLE OF ISLAY expected in October 2024, with LOCH INDAAL expected in February 2025.
The new vessels will bring an almost 40% increase vehicle and freight capacity on the Islay routes, a reduction in emissions and improve the resilience of the wider fleet.
Little Minch vessels
The new 94.8-metre vehicle passenger ferries will be designed and built to the same specification as the two new vessels for Islay, but with raised aft mooring decks to accommodate the higher pier heights at Lochmaddy, Uig and Tarbert.
The vessels will each have a capacity for up to 450 passengers and 100 cars or 14 commercial vehicles—increasing vehicle and freight capacity on the Little Minch routes and improving the overall resilience of the wider fleet.
The public will be asked to vote on the names for these two vessels next year and are expected to be delivered in June and October 2025.
This, paired with the delivery of the dual fuel vessels currently being constructed at Ferguson Marine shipyard on the Clyde will see six new vessels joining the Scottish ferry network by the end of 2025.
The GBP 91m contract to build the two Islay ferries was awarded to Cemre Marin Endustri in Turkey in March 2022 following a competitive tender.
In October 2022, The Scottish Government prioritised an additional GBP 115m in funding to enable CMAL to accelerate the replacement of the major vessel fleet and provide a more standardised vessel type that can be used on a variety of different routes.
The four vessels form part of a programme of investment by CMAL, funded through Scottish Government commitments to capital investment of around GBP 700m in ferry infrastructure and related services over the five years from 2021 to 2026.  Wider plans will deliver other new small and major vessels for the fleet and upgrades of harbour infrastructure with future options and being considered through the emerging Islands Connectivity Plan.
---