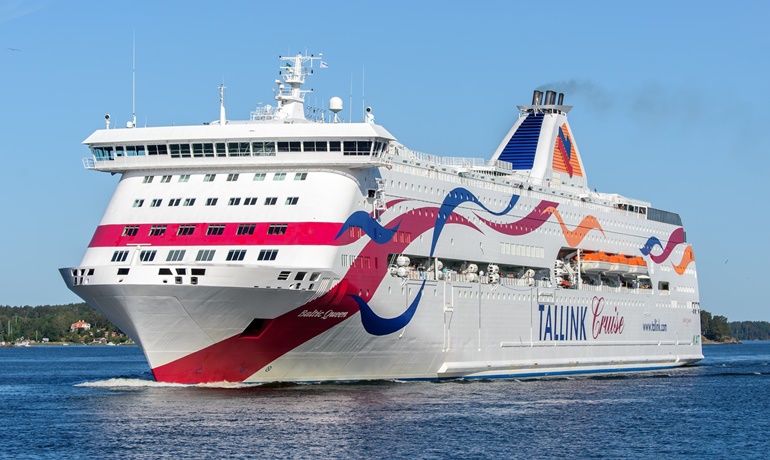 Shippax will host the 2024 Shippax Ferry Conference onboard BALTIC QUEEN © Christian Costa
BALTIC QUEEN returns to regular traffic following a two-week maintenance break
FerryTallink Grupp's Tallinn-Stockholm route vessel BALTIC QUEEN will return to her regular route and operations on 15 September 2023. The vessel which will host the Shippax Ferry Conference in 2024 has spent two weeks at the BLRT shipyard in Naantali, Finland for maintenance and upgrades.
During the two-week planned maintenance both technical works as well as internal modernisation and upgrades were carried out on the vessel. One of the main upgrades the passengers will immediately notice is the complete overhaul of the ship's popular restaurant Grill House with a completely new look and feel. Interior works additionally included carpet changes in public areas, cabin bathroom updates and other minor updates and refreshments to passenger and public areas.
On the technical side, in addition to the regular ship's hull cleaning and maintenance works, the vessel's propellers were re-bladed to enhance the power to speed the vessel and to make the vessel more energy efficient. The expected emissions-saving as a result of the re-blading is expected to be between 10-13%. Another innovative upgrade is the graphene-based hull paint that will be piloted on BALTIC QUEEN for underwater hull painting, which is also claimed to reduce the water resistance of the ship's hull significantly, thus reducing the ship's environmental impact. Should the pilot prove successful, the company will roll it out to other company vessels too as part of its greater energy efficiency drive.  
Commenting on the planned works, Tallink Grupp's Head of Ship Management and Chief Captain Tarvi-Carlos Tuulik, said:
"The last few weeks have been quite intense for the ship's crew and all our partners, who have been working tirelessly to complete the long list of works we wanted to carry out. I am pleased we have achieved everything we wanted to achieve in the tight schedule and our passengers will already be able to enjoy the refreshed interior from tonight. I am also pleased that the important technical works we wanted to carry out to make BALTIC QUEEN even more energy efficient and environmentally friendly were all also completed as planned and we can now monitor and see the effect of the new technologies and improvements."
The 2024 Shippax Ferry Conference will be held on board BALTIC QUEEN 13-15 May, 2024 https://www.shippaxferryconference.com/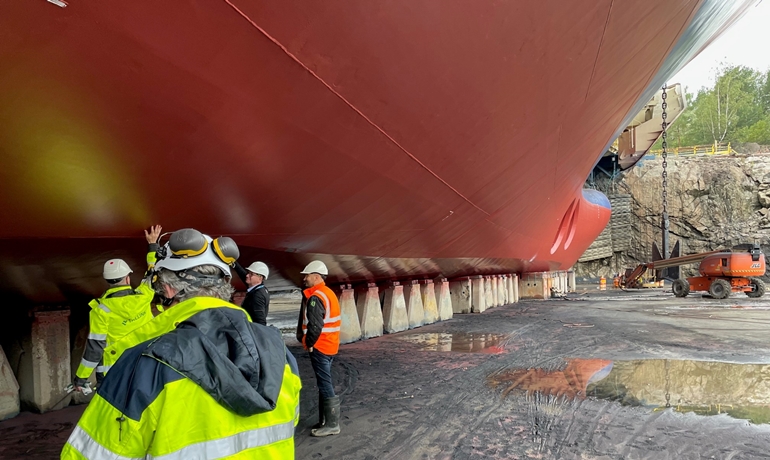 BALTIC QUEEN hull painted with the innovative graphene-based hull paint © Tallink Grupp
---
Most read

The second of P&O Ferries two new double-ended giants for its Dover-Calais service has been delivered
Nov 29 2023
Seizure of the GALAXY LEADER PCTC chartered by NYK
Nov 21 2023
Products