Tallink Grupp's new Menu Nordic showcases popular Scandinavian autumnal flavours with an Asian twist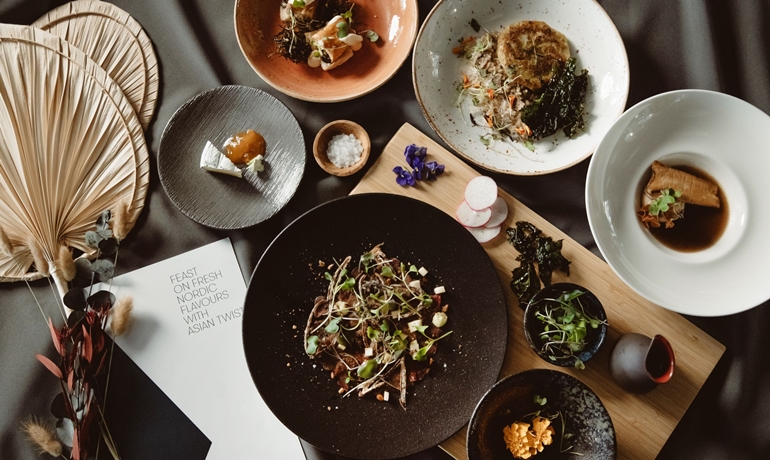 Tallink Grupp's new Menu Nordic showcases popular Scandinavian autumnal flavours with an Asian twist
Tallink Grupp has launched a new five-course Menu Nordic for the delight of fine dining enthusiasts travelling on company's cruise vessels on routes between Helsinki-Stockholm and Tallinn-Stockholm. The menu, created by Chef de Cuisine of the company's vessel SILJA SERENADE, Sami Leino, which highlights traditional Scandinavian autumnal flavours with an Asian twist, is available onboard until 2 April 2023.
Menu Nordic, available onboard the company's cruise vessels SILJA SERENADE and SILJA SYMPHONY in the Bon Vivant restaurant and onboard company's vessel BALTIC QUEEN in the Gourmet Restaurant, is renewed twice a year and is available also as a five-course vegan version.
Chef de Cuisine of SILJA SERENADE Sami Leino, together with his culinary team, started the work on developing the menu in April this year, and the menu is the first menu developed by Sami Leino as head chef of SILJA SERENADE.
Commenting on the new Menu Nordic, Chef de Cuisine Sami Leino, of the company's vessel SILJA SERENADE, said:
"Menu Nordic is truly the flagship menu of our culinary fleet. For many of our foodie customers, it is the very reason to make the trip and, indeed, the highlight of the whole trip. When creating the new menu, my aim was to combine the outstanding Finnish culinary technique mastered on our vessel, with a twist of Asia.
"Having worked in the culinary teams of several ships of our company's fleet, I have noticed that our customers traditionally like pike perch and pork, and they also have a soft spot for Asian food.  I am pleased that, as we head into the autumn season, I was able to create together with my team, a complete menu which brings those favourite elements together full of freshness, kick and great umami flavour to beautifully complement each other - at the same time, the ingredients not being overly autumnal."  
The menu onboard Tallink and Silja Line vessels' fine dining restaurants Bon Vivant and Gourmet Restaurant are updated according to the seasonal change and the raw ingredients are sourced as locally as possible.
"The new Menu Nordic highlights pike perch, funnel chanterelle and pork cheek which comes from Sweden and ash cheese from Finland.  The tuna we serve is sourced sustainably and is MSC-certified. The Financier pastry used we prepare ourselves onboard", Sami Leino adds.
Menu Nordic
Sesame tuna, funnel chanterelle and yuzu mayonnaise
Lightly smoked pike perch, Jerusalem artichoke pure and lemongrass sauce
Ginger glazed pork cheek, shiitake mushroom risotto
Finnish white mould cheese rolled in ash and papaya chutney
Popcorn ice cream, Financier pastry and salty caramel sauce
Menu Nordic vegan
Beetroot tartar, capers and lime sauce
Smoked King Oyster mushroom, parsnip, haricot beans
Jerusalem artichoke, truffle risotto and kale
Cashew Blue and papaya chutney
Grilled pineapple, coconut milk ice cream and chocolate sauce
---
Most read
Press Releases
Oct 07 2022
Cruise Baltic makes it easier to choose onshore p...
---
Oct 07 2022
Wärtsilä to provide Latvian company with biogas u...
---
Oct 07 2022
ABB and Incat sign LOI to develop lightweight hyb...
---
See all press releases
Products