Grimaldi inaugurates a new regular line linking the Balearic Islands with Italy and the peninsula with two 'ECO' vessels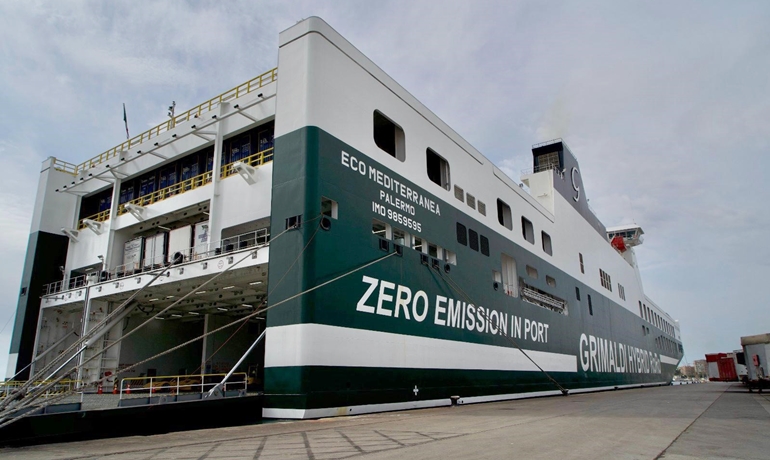 ECO MEDITERRANEA © Grimaldi Group
Grimaldi inaugurates a new regular line linking the Balearic Islands with Italy and the peninsula with two 'ECO' vessels
The Grimaldi Group has launched a new regular cargo line that connect Palma with Italy and the Peninsula with two new generation ECO ships of the innovative GG5G class.
These are the sisterships ECO ADRIATICA and ECO MEDITERRANEA, the tenth and eleventh of twelve state-of-the-art units ordered from the Chinese Jinling shipyard, located in Nanjing.
These new ships are intended for the transport of semi-trailers, machinery and rolled cargo, as well as refrigerated containers for fresh and frozen products and with the possibility of accommodating up to 12 drivers.
Weekly rotations
ECO MEDITERRANEA and its sister ECO ADRIATICA will make two weekly departures between Sagunto (Valencia) and Palma on Tuesdays at 11:30 p.m. and Saturdays at 2:00 p.m., while from Palma to Sagunto they will leave on Mondays at 1:00 p.m. and Thursdays at 6:00 p.m.
In addition, the Grimaldi Group is also opening a direct line linking Italy (Cagliari in Sardinia and Salerno in Naples) with the Balearic Islands, specifically with the port of Palma, with those same ships, with the company ensures the connection between Italy, the Balearic Islands and the Peninsula for the transport of goods and improves the connection of the Balearic Islands with the entire Grimaldi network.
Departures from Palma to Italy (Salerno) take place on Wednesdays at 12:00 noon and on Sundays at 08:00, while departures from Italy (Salerno) to Palma take place on Saturdays at 4:00 p.m. and Tuesdays at 9:00 p.m. hours.
On the other hand, departures from the Italian port of Cagliari to Palma take place on Sundays at 1:00 p.m. and Wednesdays at 6:00 p.m., while departures from Palma take place on Wednesdays at 12:00 p.m. and Sundays at 08:00 a.m.
---
Most read
Press Releases
Oct 07 2022
Cruise Baltic makes it easier to choose onshore p...
---
Oct 07 2022
Wärtsilä to provide Latvian company with biogas u...
---
Oct 07 2022
ABB and Incat sign LOI to develop lightweight hyb...
---
See all press releases
Products