110 m. Adventure Wind Cruise Vessel designed by KNUD E. HANSEN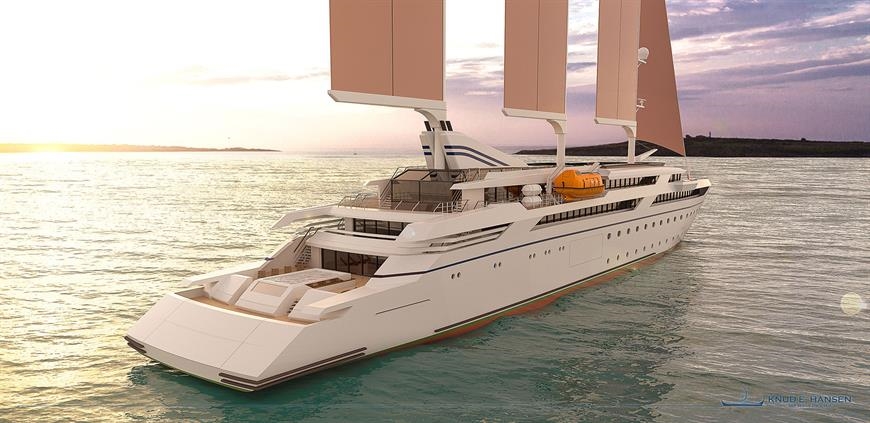 © KNUD E. HANSEN
110 m. Adventure Wind Cruise Vessel designed by KNUD E. HANSEN
KNUD E. HANSEN is proud to announce its latest design, a 110-metre Wind Cruise Vessel. This is a sail-assisted cruise vessel that can accommodate up to 100 passengers and has a range of 6000 nautical miles. This design is aimed at the adventure-cruise market and will appeal to passengers who prefer a more intimate cruise experience while visiting destinations that are inaccessible by larger ships.
By leveraging its vast experience in the design of small to medium sized expedition cruise vessels, KNUD E. HANSEN has produced a design that addresses a number of growing trends in the cruise industry. The higher end of the market prefers smaller ships where passengers can escape the crowds typically found on the large cruise lines. Furthermore, the modest length and shallow draft of this vessel allow it to anchor in small harbors, away from the throngs of tourists found in busier ports.
The design also appeals to the growing eco-tourism segment that aims to travel the world while minimizing their carbon footprint. The combination of low-sulphur diesel and wind power result in a vessel that exceeds the requirements for Emission Control Areas and all forthcoming IMO regulations. The vessel also includes a large battery bank to allow for zero emissions in port as well as specially protected areas.
The vessel features a modern rig designed by Detlev Loell Ingenieurbüro, GmbH. The rig is comprised of three free-standing masts, each with a fully-battened main sail with adjustable trailing-edge flaps for optimizing lift. The total sail area, which includes a single head sail on the forward mast, is 1910 square metres. The sails are computer-operated and are designed to provide peak performance, even in light winds.
The formidable rig design, combined with four diesel-electric engines, will allow the vessel to cruise at 15 knots in most operating conditions. The twin-screw arrangement and pair of tunnel thrusters forward allow for superior maneuverability in small ports and anchorages. Active fin stabilizers limit the vessel's heel to 6 degrees in sail-assisted mode, in order to ensure passenger comfort in typical operating conditions.
The accommodation decks include 46 passenger cabins and 2 deluxe cabins. All of the cabins are located outboard with ocean views, and many have private balconies. Located in the hull is a Sea Lounge with underwater windows for viewing marine life. On the second deck is a large tender garage with a capacity for multiple rigid inflatables, jet skis, diving gear and other recreational equipment, as well as ROV camera equipment for observation of underwater environments at a maximum depth of 3000 m. All can be launched via shell doors on either side.
The third deck features a sun deck astern with a swim platform for easy water access. Deck 4 includes a large restaurant with al fresco dining as well as a bar, library, and card room. Deck 5 includes a large bar/lounge aft surrounded by exterior deck space plus an observation area on the foredeck. The top deck features an open-deck café and sun deck with lounge chairs.
This design has been developed in-house, by the experienced staff of naval architects, marine engineers and designers at KNUD E. HANSEN as well as the sail experts at the Detlev Loell Ingenieurbüro.
MAIN DIMENSIONS:
Length oa                                110,3m
Length pp                                  99,3m
Breadth moulded                        17,0m
Depth moulded to deck 3              7,9m
Scantling draught                         4,7m
Design draught                             4,5m
Deadweight abt                             730t
Sail area abt                            1910m2
50 Pax cabins
https://www.knudehansen.com/news/110-m-adventure-wind-cruise-vessel-designed-knud-e-hansen/
---