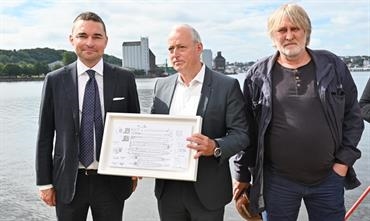 Lars Windhorst (left), Martin Hammer (middle) and Thomas Jansen (right) with a framed GA plan of the new ro-ros Windhorst plans to build at the 'new' FSG. © FSG
Windhorst saves FSG – a 'new' FSG might build two ro-ros

Aug 03 2020
Yard
Through Tennor Holding, Lars Windhorst will take over Flensburger Schiffbau-Gesellschaft (FSG) which filed for insolvency in late April and which officially folded at the end of last week. A newly established FSG will rise out of the ashes of the 'old' FSG, employing about 350 out of the yard's 600 employees.
You are not logged in
Login in or become a member to read all the articles on shippax.com
Access to our online news service
Extended search function
Instant access after purchase
And much more!
Most read

CLdN to start new Teesport service from Zeebrugge / Rotterdam and significantly expand capacity to Purfleet
Mar 14 2023
DFDS to launch new Izmir - Sète ro-ro route on 2 April 2023
Mar 14 2023