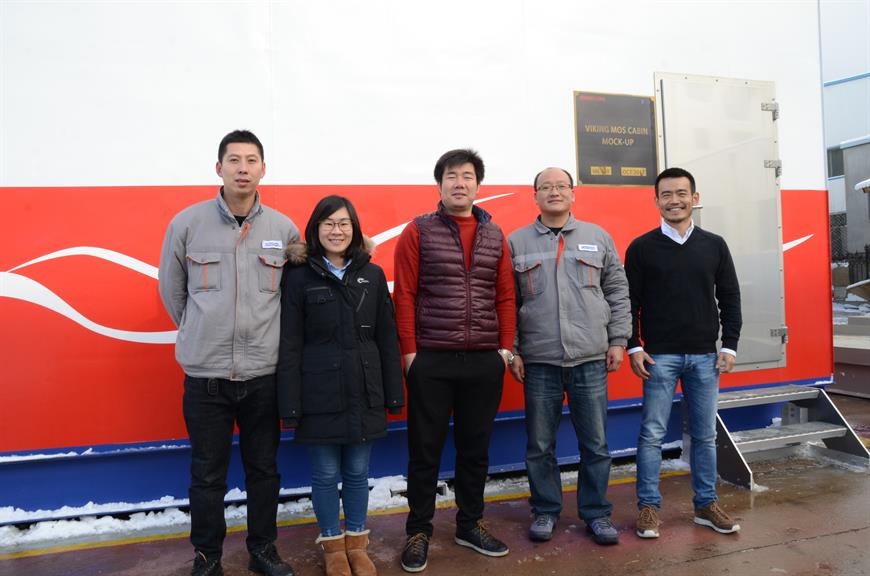 Standing in front of the Viking Line mock-up with (left to right) Helen Zhao, Terry Tong and Bruce Xu © Philippe Holthof
Whirlwind visit to North Sea Offshore Technology in Yantai
SupplierAfter the visit to AVIC Weihai, I headed for Yantai – a 90- to 120-minute drive from the yard. However, the main motorway was blocked due to a snowstorm, so we had to take a provincial road in complete darkness instead…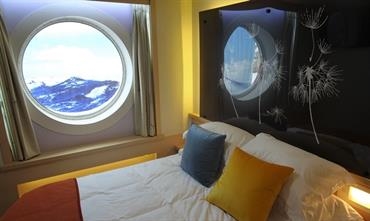 Inside the Viking Line mock-up © Philippe Holthof
On Friday, I woke up in a snow-covered Yantai and the plan was to meet the management team of North Sea Offshore Technology (NSO) – a leading turnkey contractor – prior to flying to Shenzhen. The main roads were quite slippery and the drive to the North Sea Offshore Technology head office in an area called River Thames, took way longer than on a normal day. So, instead of a 2.5-hour visit with an inspection of the workshops, it turned out to be a 40-minute whirlwind visit as the drive to the airport was expected to take twice as long as in normal weather conditions.
Bruce Xu and Terry Tong first proudly showed the 'hall of fame' pictures as the turnkey supplier has joined forces with renowned Scandinavian suppliers – the most recent joint venture being SCENSO in which North Sea Offshore holds a 67% stake. The JV is used as the vehicle for the Viking Line project at Xiamen Shipbuilding and the remaining 33% is controlled by SCE of Finland. SCENSO will be in charge of the outfitting of the Spa area, Pizza Café, duty-free shop, the Conference Centre and the sun deck on Deck 9 aft. The company also built a mock-up with well-appointed cabins for the Viking Line newbuild, but eventually decided to concentrate exclusively on the public spaces as it represents SCENSO's first major ro-pax project in China. Bruce showed me around the mock-up which felt reminiscent of VIKING GRACE.
NSO is bidding for the accommodation turnkey of both the DFDS and Algérie Ferries newbuilds at GSI and has already supplied 3D renderings for both projects. The 3D modelling – using Catia and SolidWorks – has been one of the company's fortes and, as Bruce pointed out, it is a helpful tool for the shipyard. NSO has also been contracted to install all the furniture and materials on the first expedition vessel for SunStone at CMHI.
The 2008-founded company is also one of the turnkey contractors on Mercy Ships' GLOBAL MERCY, being in charge of the auditorium, the installation of the galley, guest (VIP) cabins and guest lounge on the top deck forward. More on this project and the role of NSO as accommodation turnkey supplier in ferry and cruise shipping can be read in the March edition of ShippaxInfo.
© Shippax / Philippe Holthof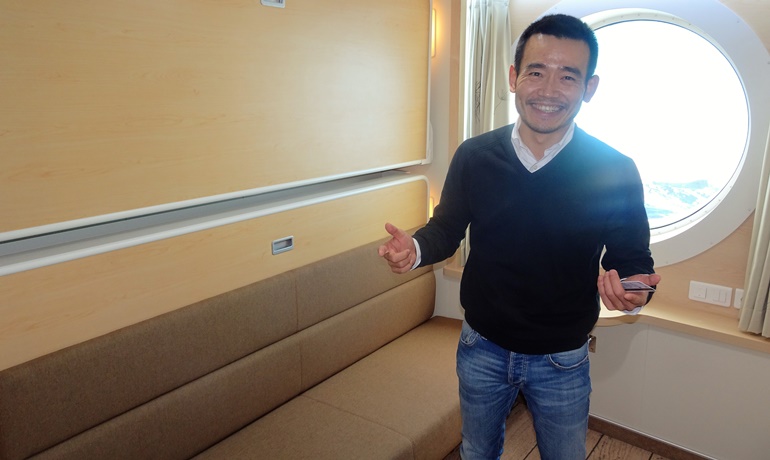 Bruce Xu in the Viking Line mock-up - outside cabin © Philippe Holthof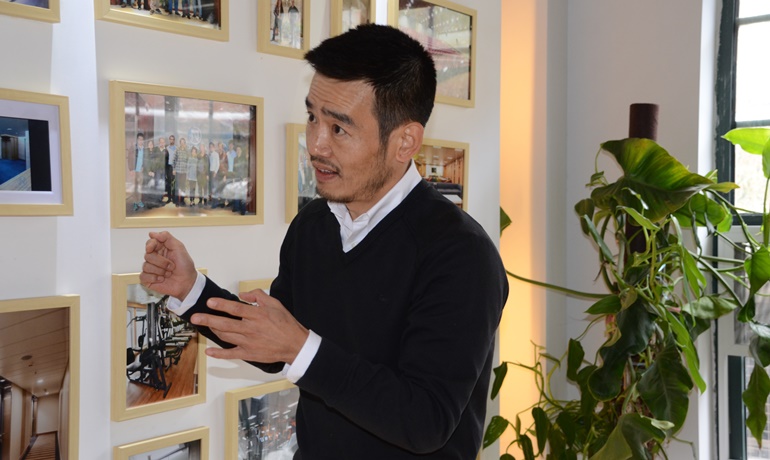 Bruce Xu introducing NSO © Philippe Holthof
---
Most read
Press Releases
Dec 13 2018
Awakening connectivity
---
Dec 13 2018
Yara Marine responds to growth with move to new o...
---
Dec 13 2018
Jotun and Kansai Paint build relationship to meet...
---
See all press releases
Products