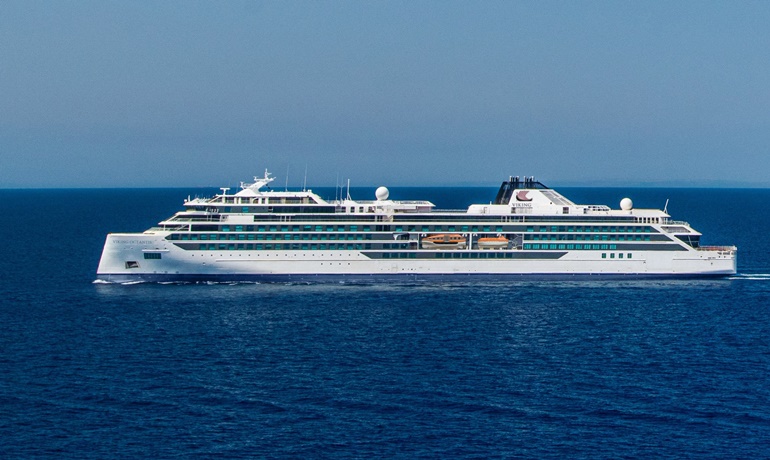 VIKING OCTANTIS delivered © Viking Ocean Cruises
VIKING OCTANTIS delivered to Viking
CruiseFincantieri has delivered in Søviknes (Norway) VIKING OCTANTIS, the first of two expedition vessels for Viking. VIKING OCTANTIS, as well as her sister ship VIKING POLARIS, to be delivered in June next year, are 205m long and can host 378 guests in 189 staterooms.
The ships have the "Polar Class 6" certification for expeditions in the polar regions, and they have the size to navigate remote areas and the St. Lawrence River and provide superior handling and stability in rough seas. Straight bows, longer hulls and state-of-the-art fin stabilizers will allow the ships to glide over the waves for the calmest possible journey, ice-strengthened hulls will provide the safest way to explore and u-tank stabilizers will significantly decrease rolling by up to 50% when the ships are stationary.
Designed by the same nautical architects and engineers that designed Viking's ocean ships, these new vessels feature modern Scandinavian design, intimate spaces and attention to detail, as well as public spaces that are favorites on Viking's ocean ships and new spaces created specifically for expeditions.
Fincantieri started its partnership with Viking in 2012, trusting the shipowner who was entering the ocean cruise market as a start-up. Today, the cooperation which first began with an order for two ships, has reached a total of 20 units, including VIKING OCTANTIS and VIKING POLARIS and the options. This is an all-time record, the largest number of units ordered to a shipbuilder by one sole shipowner.
Other 9 units, options included, will take to the sea from the Group's Italian yards in the next years.
---
Most read
Press Releases
Jan 26 2022
Viking Line puts AMORELLA on the Stockholm - Hels...
---
Jan 25 2022
Holland Norway Lines partners with COLUMBIA sign...
---
Jan 25 2022
Broad scope of Wärtsilä power solutions selected ...
---
See all press releases
Products