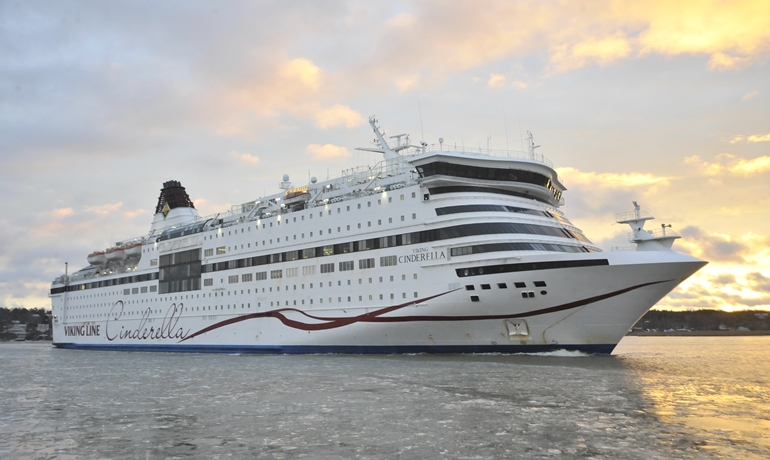 VIKING CINDERELLA © Jukka Huotari
VIKING CINDERELLA to go on Advent cruises to Riga-returns to Helsinki this summer
FerryIn December, VIKING CINDERELLA will, for the first time in over a decade, steer the course towards Riga. On the second and third days of Advent, the ship departs from Stadsgårdskajen in Stockholm to Latvia's capital. During the three-day cruise, guests will be treated with food compiled by the Swedish Chef National Team and will be able to visit the famous Christmas market on Domkyrkotorget in Riga.
- In recent years, we have invested heavily in new attractive Baltic Sea destinations, such as Visby, the High Coast, Ystad and Bornholm. The response has been enormous, which of course spurs us on to further develop our portfolio of fine cruise destinations in the local area. We hope that many will treat themselves to a well-deserved break from the Christmas frenzy in atmospheric Riga, says Kenneth Gustavsson, commercial director for Viking Line Scandinavia.
The Advent cruises to Riga depart from Stockholm on the second Advent on 10 December, and on the third Advent on 17 December, respectively. The trip includes two nights on board and one day in Riga. Among other things, you can visit Riga's popular Christmas market on Cathedral Square, which is on UNESCO's list of world cultural heritage. Viking Line offers a shuttle bus between the ship and the center of Riga.
The cruises go on sale from from SEK 2,115 per person and includes:
Three-day cruise Stockholm-Riga with VIKING CINDERELLA
Two nights on board, one day ashore with a share in an inside cabin for two
Three-course dinner including wine package
The Swedish Chefs Association's Christmas buffet including wine, beer, soft drinks and coffee
Transfer bus during the day in Riga between VIKING CINDERELLA and Riga city center
VIKING CINDERELLA mainly cruises between Stockholm and Mariehamn, but during the summer months makes longer destination cruises to Visby, Ystad/Österlen, Höga Kusten and Bornholm. During the period 30 June – 5 August 2023, the ship also goes to Helsinki.
© Shippax
---