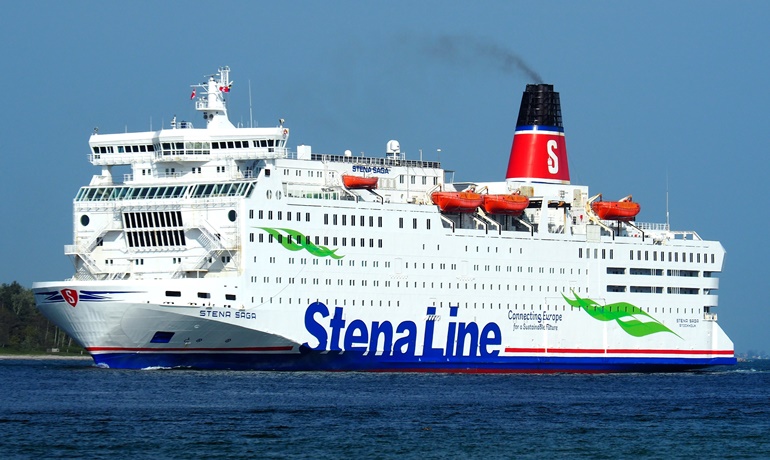 Stena RoRo confirmed to Shippax that STENA SAGA could emerge as a fully class-compliant hospital ship at fairly short notice with a conversion time of about two weeks. © Peter Therkildsen
STENA SAGA put on the market as 'COVID-19' hospital ship
FerryFollowing the recent closure of Stena Line's passenger-oriented Frederikshavn-Oslo route and the subsequent lay-up of the route's single vessel, the 1981-built STENA SAGA, Stena hasn't been resting on its laurels to find a new assignment for the 2,232-passenger capacity cruise ferry, a hospital ship being one of them.
Stena RoRo has experience in hospital ship building as project manager for Mercy Ships' GLOBAL MERCY, the world's largest civilian hospital ship that is currently under construction in China. Now part of the Stena RoRo fleet, STENA SAGA could be converted into a hospital ship in a similar way to GNV's 1994-built SPLENDID, used as a hospital ship in Genoa. Ironically, the COVID-19 pandemic, cited by Stena Line as the reason why they pulled the plug on the Denmark-Norway route, could now safeguard the short-term future of the 593-passenger cabin STENA SAGA.
Thanks to the large number of cabins, the conversion into a hospital ship would be on a much larger scale than that of SPLENDID as over 500 sick beds would be available. According to Stena RoRo, STENA SAGA, first laid up in Gothenburg but meanwhile shifted to Uddevalla, could emerge as a fully class-compliant hospital ship at fairly short notice with a conversion time of about two weeks.
Rikard Olsson, project manager for GLOBAL MERCY, has been appointed to oversee the possible conversion. The US, Italy, France, Australia and many other countries are poised to increase their bed capacities for COVID-19 patients, using hospital ships.
© Shippax / Philippe Holthof
---
Most read
Press Releases
Jul 02 2020
Premiere for Rolls-Royce's first MTU gas engines ...
---
Jul 01 2020
Vow ASA: Vow ASA subsidiary Scanship awarded a 7....
---
Jul 01 2020
As of 1 July, Norway permits bareboat registratio...
---
See all press releases
Products