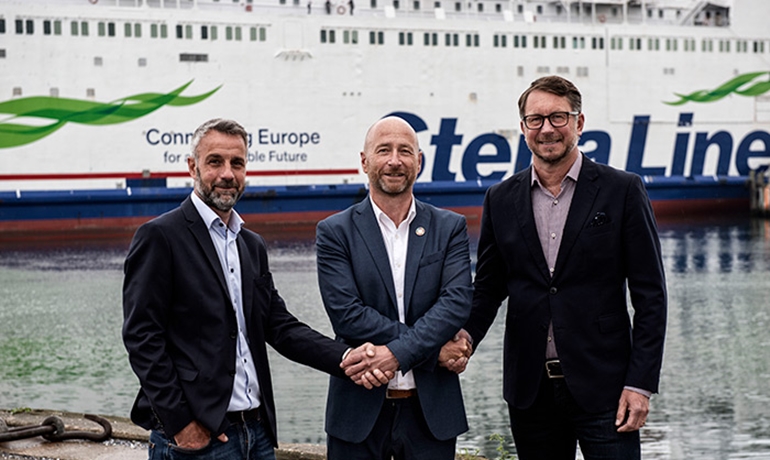 Stena Line Grenaa-Halmstad ferry guaranteed until 2034
FerrySince 1 February 2020, Stena Line's ferry has sailed between the cities of Grenaa and Halmstad. With the new agreement, ferry services between the two regions are guaranteed right up to and including 2034. This means, among other things, that truckers and freight forwarders can be sure that their trucks can take a shortcut across the Kattegat and are not dependent on driving across the Great Belt and the Øresund Bridge to get to and from Sweden.
"We are pleased that with this multi-year agreement with Stena Line we can offer an alternative to the long route over Funen and Zealand. If we can get even more trucks to Sweden and Denmark via waterway, it will be good for the environment and mean a significant reduction in CO2 emissions. It has been important to us that the agreement extends over many years, so that the transport industry has the opportunity to plan their route network over a multi-year period", says CEO Henrik Carstensen, Grenaa Havn A/S.
The mayor of Norddjurs Municipality is also enthusiastic about the new agreement, which according to him will provide optimal conditions to stimulate growth in tourism and business in the Kattegat region.
"It is a really good agreement for Norddjurs Municipality and the whole of East Jutland. The agreement between the Port of Grenaa and Stena Line guarantees that there will be a stable and good ferry connection for the next several years. A ferry connection that ties the Kattegat region together. It is the basis for us, together with our partners in the Kattegatalliance, to develop the region, so that we create the best growth conditions for the development of business and tourism on both sides of the Kattegat", says Kasper Bjerregaard, mayor of Norddjurs Municipality, and continues:
"The agreement underlines the importance that we expand the 2 plus 1 road network between Grenaa and Aarhus and that the infrastructure settlement 'Danmark Fremad - Infrastructure Plan 2035' is made a reality".
"At Stena Line, we are pleased to enter into a long-term agreement on the ferry connection between Grenaa and Halmstad and thus continue to be able to offer our cargo customers and passengers an efficient and environmentally friendly transport option across the Kattegat. We look forward to continuing the good cooperation with Grenaa Havn and Norddjurs Municipality for many years to come", says Kim Lindholm, Operations Manager, Port and Terminals Stena Line".
---
Most read
Press Releases
Oct 07 2022
Cruise Baltic makes it easier to choose onshore p...
---
Oct 07 2022
Wärtsilä to provide Latvian company with biogas u...
---
Oct 07 2022
ABB and Incat sign LOI to develop lightweight hyb...
---
See all press releases
Products