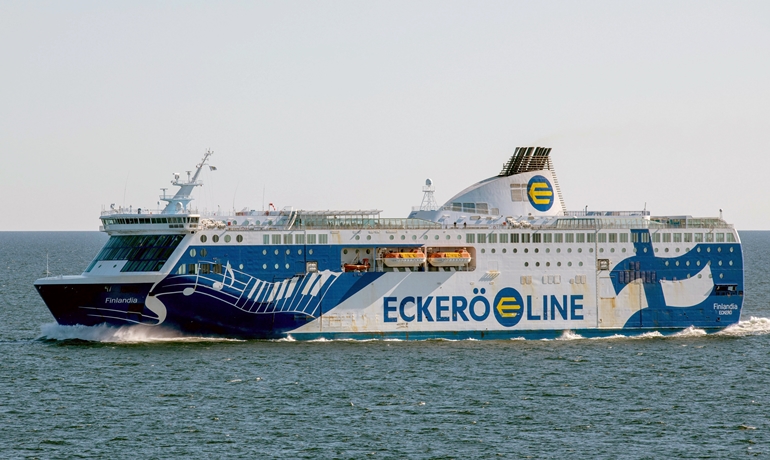 FINLANDIA © Frank Lose
Rederiaktiebolaget Eckerö Q2 2023 results
FinanceTurnover increased by 23% to EUR 62.8m (EUR 50.9m) and operating profit amounted to EUR 11.9m (EUR 1.0m), which is the best operating profit for the second quarter ever. The result for the accounting period was EUR 6.9m (EUR -0.2m).
SECOND QUARTER 2023 (compared to second quarter 2022):
• 882,209 passengers travelled on the Group's ships, which was 22% more than the same period last year the year (722,917)
• The number of shipping units amounted to 44,326, which was 7% more than the same period last year (41,432)
• The sale of BIRKA STOCKHOLM and EXPORTER was completed during the second quarter and the company has amortized EUR 46.0m on the interest-bearing liabilities since the sale of the vessels. After these amortizations, the net debt amounts to EUR 18.0m and the equity ratio to 47.8% as of 30.6.2023.
FIRST HALF OF 2023 (compared to first half of 2022):
• 1,416,387 passengers travelled with the Group's ships, which was 32% more than the same period last year (1,075,514)
• The number of shipping units amounted to 86,763, which was 8% more than the same period last year (80,561)
• Turnover increased by 28% to EUR 102.1m (EUR 79.9m)
• The operating profit amounted to EUR 6.5m (EUR -4.5m), which is the best operating profit for the first half of the year ever
• The result for the accounting period was EUR 1.3m (EUR -4.2m), which is the third best result for the first half of the year ever
Full report https://rederiabeckero.ax/wp-content/uploads/2023/08/Ekonomisk-oversikt-1.4-30.6.2023.pdf
---