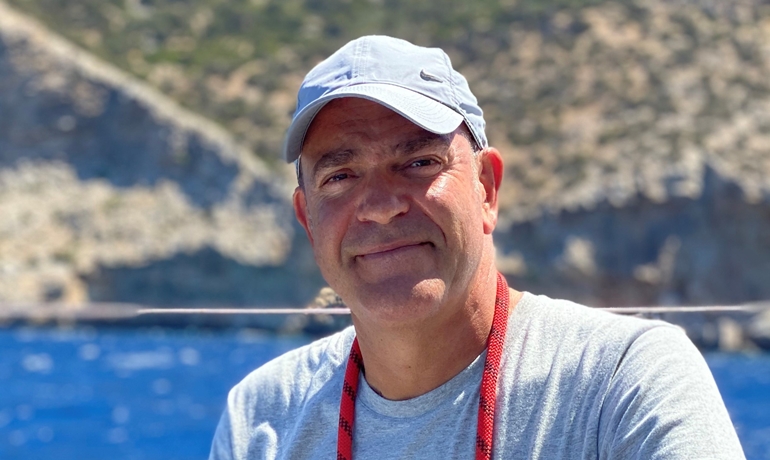 Apostolos Molindris © Shippax
Quick Q&As – Apostolos Molindris
InterviewThis interview with Apostolos Molindris, architect, founder & director at Molindris+Associates | Architects+Designers, was first published in the November 2020 issue of our monthly magazine Shippax Info.
"WHEN CLIENTS SHOW US THIS LEVEL OF TRUST AND GIVE US SUCH CREATIVE FREEDOM, IT RESULTS IN SOME OF OUR BEST WORK"
Name: Apostolos Molindris
Position: Architect, founder & director at Molindris+Associates | Architects+Designers
Age: 57
Zodiac sign: Capricorn
Civil status and family: Married, father of two daughters, 21 and 17 years old
Place of birth: Athens, Greece
Please tell us something about your career path in interior architecture in general and in ferry interior design in particular.
I studied architecture at the Aristotle University of Thessaloniki. My career started at AM Katzourakis, the design agency of Michalis and Agni Katzourakis, who specialised in interior design. They became my mentors for more than a decade. A lot of my knowledge and experience is owed to them. My first contact with marine interior design happened while I was a member of their team.
You have been designing ferry interiors for Attica Group for more than two decades. How did it all start?
I first collaborated with Attica Group as a team member of AM Katzourakis' design agency. Later on, when I started my own architecture and design office and created my own team, one of the initial clients who trusted me, despite my young age, was Pericles Panagopoulos of Attica Group and his son Alexandros. I have had the honour of working with Attica Group ever since.
Besides Attica Group, you have also worked for ANEK Lines, Levante Ferries and many others, making you probably the definitive reference in ferry interior design in Greece. Please tell us something about your current and upcoming projects.
At the moment, we are working simultaneously on three different projects for Attica Group, as well as a project for Levante Ferries, SMYRNA, a ferry that will connect the port of Thessaloniki with the port of Izmir.
If you were allowed to design a newbuild unencumbered, what would your ideal ferry look like?
In 2010, when the late Petros Vettas of Attica Group entrusted us with the design of such a ferry, we produced the BLUE STAR PATMOS, which was awarded a Shippax Award for her 'exceptional design qualities' in 2013. This proves that when clients show us this level of trust and give us such creative freedom, it results in some of our best work. I look forward to having a similar opportunity again in the near future.
When designing a ferry interior, are you inspired by projects on terra firma like bars, restaurants, and shopping malls etc.?
Yes! Since we operate in the fields of both marine and land architecture and design, we often 'borrow' inspiration and techniques from our marine projects and apply them to land projects and vice versa.
Besides interior design, are you also involved in the exterior styling of the ferry that is built or converted?
Depending on the level of trust, the chemistry and the relationship between us and the shipowners, we very often participate in the exterior styling of the vessels as well as their interiors.
What are your favourite materials to work with?
I love working with natural materials, such as wood, metal, glass and stone.
Describe a good interior design in a few words.
Practical, timeless, low-maintenance, brings joy to the user.
What is your all-time favourite ferry you designed?
When I was a young boy, my two brothers and I tried numerous times to make our mother say which one of us she loved the most. So, I will reply to you like she did: I love all of them equally!
What was your childhood dream job?
Architect.
Are you into sports?
I like playing and watching tennis. I also love cycling a lot and I try to use my bicycle for my daily transportation as much as possible.
What is your favourite dinner and drink combination?
I like all Aegean fish, grilled, with olive oil and lemon, accompanied by good Greek white wine. Preferably by the sea!
---