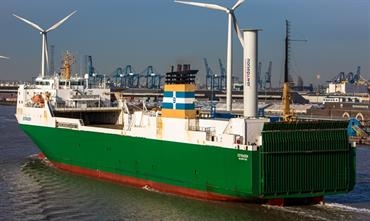 ESTRADEN is now equipped with two rotor sails © J. Jager
P&O Ferries pulls the plug on its Teesport-Rotterdam (Europoort) freight ro-ro service

Jan 26 2023
Ro-ro
In the latest part of its cost cutting measures, P&O Ferries ceased its freight ro-ro service between Teesport (UK) and Rotterdam (Europoort) on 21 January, when the chartered Bore-owned 2,220 lanemetre capacity ro-ro ESTRADEN sailed from Europoort to Teesport. The 1999-built vessel, which has been on charter to P&O Ferries since September 2014, then sailed the following day to Zeebrugge.
You are not logged in
Login in or become a member to read all the articles on shippax.com
Access to our online news service
Extended search function
Instant access after purchase
And much more!