North Sea Handling to supply Cargo/Passenger Access Equipment for KiwiRails two new ferries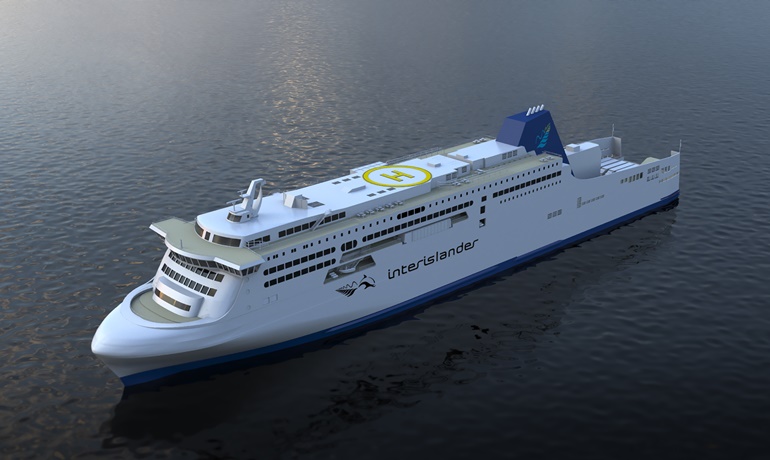 North Sea Handling to supply Cargo/Passenger Access Equipment for KiwiRails two new ferries
FerryNorth Sea Handling AS is through its subsidiary NSH Ships Equipment AS awarded the contract to equip KiwiRails two new Railway / Ro-pax Ferries being built by Hyundai Mipo Dockyard (HMD) with cargo and passenger access equipment.
The NSH scope of supply will include a wide range of equipment serving the handling of both cargo, trains, cars/trailers as well as passengers.
Adam Bengtsson, Senior Advisor and Partner, NSH:
"Our involvement in this project started already a few years back supporting the owner and the ship design company OSK-ShipTech with various birth fit analysis and other vehicle simulations assuring efficient and safe operations. Getting the chance to also realize the project together with Hyundai Mipo Dockyard is something we are very proud of and looking forward to."
Young-Jae OH, Deputy General Manager, Hyundai Mipo Dockyard (HMD):
"Although it hasn't been a few months since HMD signed the contract with North Sea Handling, we are much impressed by not only NSH's performance and specialty for the design of Ro-Ro equipment but also variable knowledge in cargo operations and birth fit satisfying the customer's requirement precisely. We are confident that KIWIRAIL vessel which is the main project of HMD will be able to be successfully completed if NSH is with us for the rest of the journey."
Massimo Soprano, Ships Programme Director, iReX, KiwiRail:
"We are very pleased with the selection of North Sea Handling for the design and supply of ship's cargo and passenger access equipment for KiwiRail's two new Interislander ferries".
"NSH has an excellent track record for developing innovative, efficient and safe solutions. We look forward to working with NSH and Hyundai Mipo Dockyard on such an important part of the new ships operational capabilities."
---