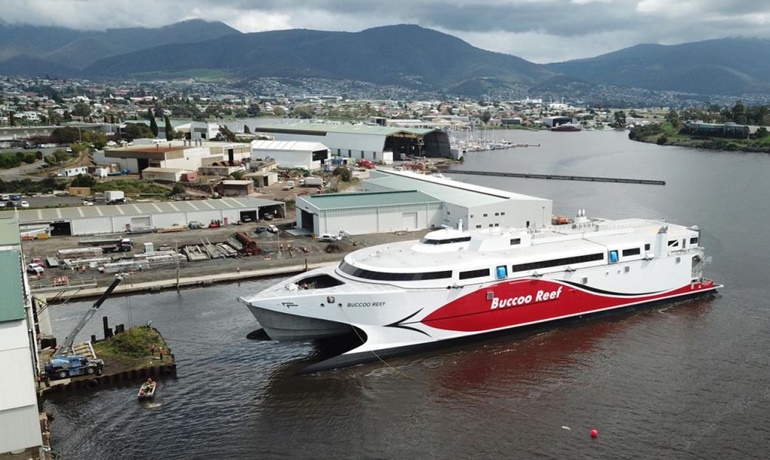 Photo caption: BUCCOO REEF, seen here during its launch in October last year. © Incat Tasmania
NIDCO's BUCCOO REEF heading home
High-speedThe 100m ro-pax wave piercing catamaran BUCCOO REEF has left builders Incat in Hobart, Tasmania, and started its delivery voyage home to Trinidad and Tobago.
BUCCOO REEF is the second of two newbuildings Trinidad & Tobago's National Infrastructure Development Company (NIDCO) ordered for its sea bridge link between Trinidad, Port of Spain and Tobago, Scarborough. Austal's Vietnamese yard in Ving Tau delivered the first, the Auto Express 94m catamaran A.P.T. JAMES, in November.
The 39-knot BUCCOO REEF has a capacity for 981 passengers and 239 cars, or a combination of 187 cars plus 175 freight lanemetres. Both vessels are each equipped with four MAN 16V28/33D STC engines with an output of 7,280kW per engine.
The newbuilds will replace the Incat 98m wave piercer T&T SPIRIT and the Austal Auto Express 107m catamaran JEAN DE LA VALETTE, chartered from Virtu Ferries.
© Shippax / VM / PHO
---
Most read
Press Releases
Feb 26 2021
Norwegian Cruise Line Holdings Reports Fourth Qua...
---
Feb 26 2021
Stronger shipbuilding margins drive Austal H1 ear...
---
Feb 26 2021
Fincantieri: BoD approves 2020 consolidated finan...
---
See all press releases
Products