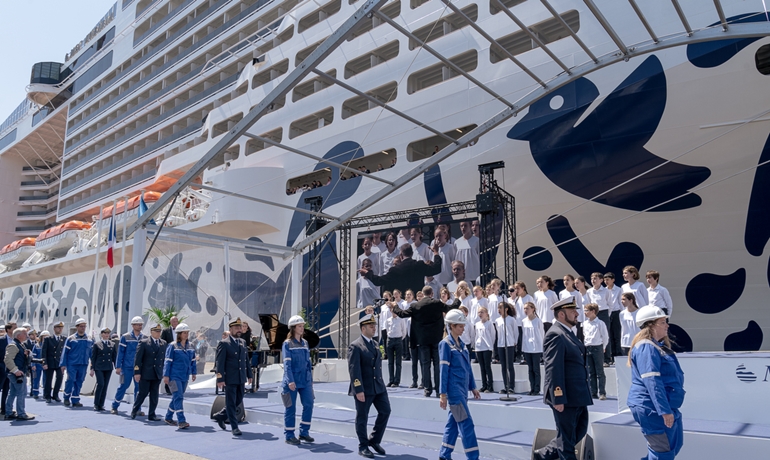 © MSC Cruises
MSC Cruises' latest cruise ship MSC EURIBIA has been delivered
CruiseMSC Group and Chantiers de l'Atlantique celebrated the delivery of MSC EURIBIA for the Company's MSC Cruises brand, a vessel which features many energy-efficient solutions.
MSC EURIBIA is the final evolution of the popular Meraviglia class and the second ship for MSC Cruises to be powered by LNG. Onboard, she boasts a range of environmental technology, including advanced onboard wastewater treatment systems and waste management handling. She has also been designed with the future in mind, allowing her to easily incorporate future innovations in sustainability, such as carbon-neutral synthetic and other alternative fuels as soon as they are available at scale.
MSC EURIBIA's Net Zero Greenhouse Gas Emissions Journey
In an industry first, MSC EURIBIA will complete a net zero greenhouse gas emissions voyage. The newbuild, the 22nd ship to join the MSC Cruises' fleet, ship will sail from Saint-Nazaire in France to Copenhagen in Denmark and achieve net zero greenhouse gas (GHG) emissions to demonstrate net zero cruising is possible today.
The net-zero voyage will utilise bio-LNG using a mass-balance system, the most cost effective and environmentally efficient method of delivering the benefits of renewable biogas. The entire supply-chain will be fully compliant with the EU Renewable Energy Directive (RED II) and each individual batch of the total bio-LNG produced has been certified by the International Sustainability & Carbon Certification (ISCC).
The Coin Ceremony for MSC WORLD AMERICA
The coin ceremony for the third LNG-powered ship in MSC Cruises' fleet and first based in the U.S., MSC WORLD AMERICA, also took place. The new ship due in 2025 will feature many of the environmental innovations present on MSC EURIBIA but with additional ones like pioneering technology to virtually eliminate methane slip from LNG when in operation.
MSC EURIBIA features and environmental technologies:
Gross tonnage: 184 011
Length: 331 m
Width: 43 m
Height: 73,6 m
Passenger capacity: 6 334
Engines and fuels:
Four Wärtsilä Dual Fuel engines: 2 x 16V46DF and 2 x 12V46DF
Engines capable of running on Liquified Natural Gas (LNG) and on low-sulphur marine gas oil (MGO)
---