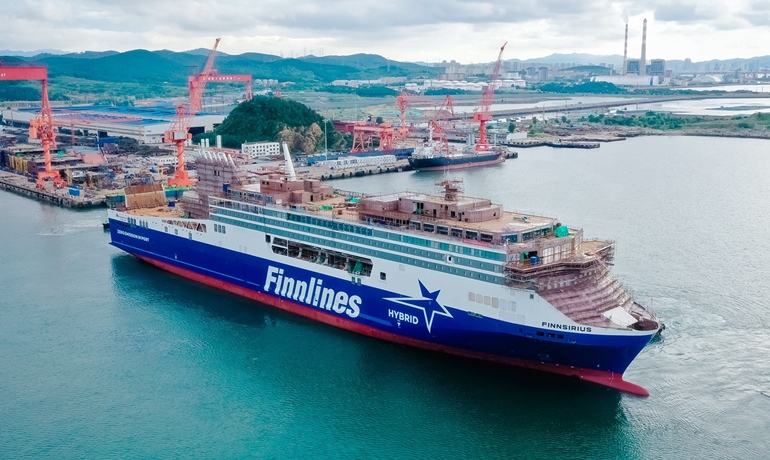 FINNSIRIUS was launched © Finnlines
Launching and keel laying of Finnlines two Superstar-class ro-pax ferries
FerryThe first of Finnlines new Superstar-class ro-pax ferries, FINNSIRIUS, was launched at China's CMI Jinling Weihai Shipyard on 30 August, while the second vessel, FINNCANOPUS celebrated its keel laying on 1 September.
The 68,460gt battery hybrid ferries are designed by Knud E. Hansen and built for operation between Sweden and Finland (Kapellskär- Långnäs-Naantali), when delivered in 2023. FINNSIRIUS and FINNCANOPUS will set new standards in the Baltic in both passenger accommodation and facilities, including a large duty-free shopping centre, the heart of the vessel; and freight capacity.
FINNSIRIUS and FINNCANOPUS will each operate a return sailing each day; one day sailing and one overnight sailing.
Designed to meet the highest technical and environmental standards, the Superstar-class vessels have been optimised for service speeds of 16 knots and 19 knots. Each ferry can carry 1,100 passengers and offers 323 cabins, with freight capacity at 5,255 lanemetres (equivalent to 300 lorries and 200 cars), 40 per cent more than the vessels they replace on the current service – FINNFELLOW and FINNSWAN.
The 235m long Superstar-class vessels features shore power for zero emission in port, are built to the highest Finnish/Swedish ice-class 1A Super, they also feature a rudder bulb for increasing energy efficiency, an auto mooring system for reduced cargo handling and faster port turnarounds, an underwater hull air lubricating system, and a Promas Lite system to increase energy efficiency.
A 5MWh battery pack is fitted to each vessel, and Wärtsilä has been contracted to supply the propulsion system, comprising of four Wärtsilä 6L46F main engines, thrusters and a state-of-the-art electric package. This includes a hybrid shaft generator system, comprising a fully integrated Multidrive capable of driving the shaft generators in both directions, as motors and/or generators.
Wärtsilä's package also includes the thrusters' controls system and an energy management system for performance optimisation.
© Shippax / MH
---
Most read
Press Releases
Oct 07 2022
Höegh Autoliners offers customers carbon neutral ...
---
Oct 07 2022
Höegh Autoliners joins First Movers Coalition and...
---
Oct 07 2022
A new generation of ferries for Hong Kong passeng...
---
See all press releases
Products