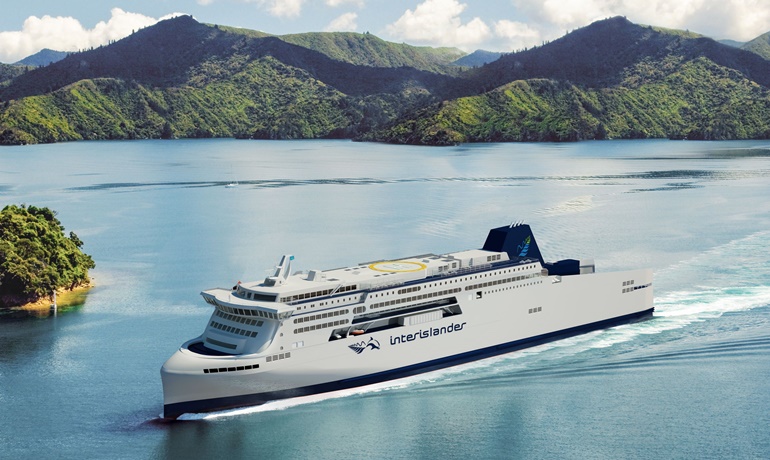 As it looks now, Interislander's newbuilds will be built in South Korea rather than in China as first expected. © OSK-ShipTech
KiwiRail signs LOI with HMD to build two new rail-enabled Interislander ro-paxes
FerryKiwiRail has signed a Letter of Intent (LOI) with Ulsan-based Hyundai Mipo Dockyard to build the two rail-enabled ro-pax ferries that will replace Interislander's three existing ro-paxes on the Cook Strait. The final shipbuilding contract is expected to be signed by mid-2021 and construction of the ferries should be underway by late 2022.
Designed by OSK-ShipTech, the 220m long ro-paxes will use different energy sources through their life if these are available in New Zealand, and at day one will provide for battery operations when docking and plug into local power supply at each port. The vessels will have a capacity for 1,900 passengers and 3,600 lanemetres of freight with the main deck configured to load up to forty 18m long rail wagons on six tracks.
KiwiRail Chief Executive Greg Miller said the decision to work with HMD was a significant step forward for the new Interislander project and the culmination of a robust, competitive, year-long selection process.
"KiwiRail has been working hard at this since first seeking Expressions of Interest in August last year. Based on responses to that process, we undertook a Request for Information in October 2019, followed by Requests for Proposals," Mr Miller said.
"At all stages we were impressed by the quality of applicants and today's announcement is the culmination of the selection phase of this important procurement. KiwiRail has specified a Makers' List of components – predominantly American and European, including the engines, propulsion system and navigation system – to ensure the new ships will serve New Zealand well for the next 30 years."
The NZ government committed NZD 400 million in Budget 2020 to the New Interislander project, building on a NZD 35 million investment in Budget 2019.
Interislander operates around 3,800 services a year between Wellington and Picton, transporting about 850,000 passengers, 250,000 cars and up to NZD 14 billion worth of freight, but with significant growth predicted. New terminals and berths in Waitohi Picton and Wellington are planned to accommodate the new ferries and improve the Interislander service for customers and staff.
Already a prolific builder of short-sea ro-ros, HMD is also becoming South Korea's leading builder of ro-pax tonnage. It recently delivered QUEEN JENUVIA to Seaworld Express Ferry and won the contract to build a new compact ro-pax for the Isle of Man Steam Packet Company.
© Shippax / PR / PHO
---
Most read
Press Releases
Dec 03 2021
Construction begins of Silversea Cruises SILVER NOVA
---
Dec 03 2021
Contract awarded for piers upgrade for new Islay ...
---
Dec 03 2021
Zinus technology selected for two more norwegian ...
---
See all press releases
Products