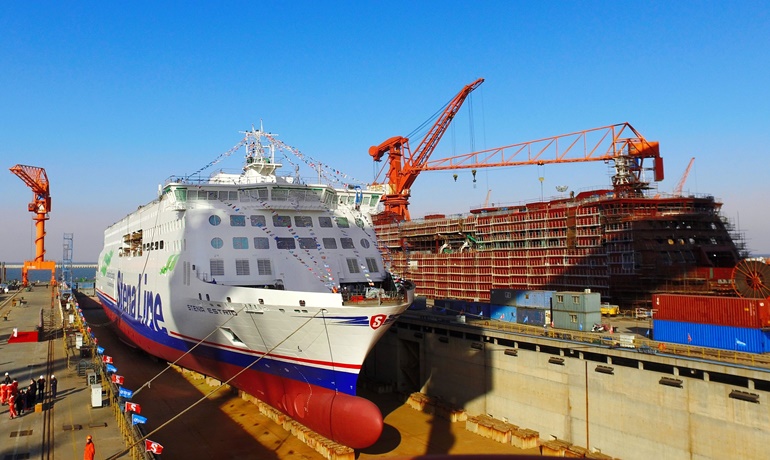 STENA ESTRID ready to be floated - yard number W0264 can be seen in the second building dock © AVIC Ship
(UPDATED) It's STENA ESTRID
FerryOn Thursday 16 January, Stena Line's first E-Flexer under construction at AVIC Weihai was floated. She will remain in the building dock to be floated out later this quarter. Coinciding with the floating ceremony, there was the keel laying of yard number W0267. This is the third E-Flexer which will emerge as GALICIA on a long-term charter to Brittany Ferries.
The lead ship in what is currently a series of eight vessels is named STENA ESTRID, Estrid being an old Norse eastern-nordic version of the name Astrid. Meaning 'divinely beautiful', Estrid is commonly found on old runestones. Stena RoRo, in charge of the whole project, holds an option for three more vessels of the same class – bringing the total to possibly eleven.
STENA ESTRID will be delivered in time for a debut on the Holyhead-Dublin route in early 2020. She will be followed by two more sisters (yard numbers W0264 and W0266 – the second and fourth ship in the series) which will be introduced on Stena Line's domestic service between Birkenhead (Liverpool) and Belfast. Last summer, two more lengthened versions were ordered, but Stena Line has yet to decide where to introduce these E-Flexer Mk II Class ro-paxes.
Three ships in the series will be bareboat chartered by Brittany Ferries and DFDS for service in the Western Channel/Bay of Biscay and the Dover Strait respectively. These ships will be adapted to the needs of their charterers: Brittany Ferries' GALICIA will have a scrubber installed, whereas sister ship SALAMANCA will be LNG-powered, reducing the freight intake from 3,100 to 2,758 lanemetres. The Brittany Ferries ships will not have a separate upper car deck on Deck 7 aft – this space will rather be filled with additional cabins. The as yet unnamed ro-pax ferry for DFDS will be adapted for service on the Calais-Dover route with a wider bow and a modified stern. Cabins on Deck 8 aft will be replaced by public spaces. This ship will also be equipped with a third bow thruster for optimal manoeuvrability.
Flexibility is key and the E-Flexer design is such that it can be used on a wide variety of routes, inside and outside the Stena Line network. The eight ships currently on order are essentially sisters (and lengthened sisters), but still represent six different designs to make them fit for purpose. In the March edition of ShippaxInfo, more details will be revealed about this unique project.
© Shippax / Philippe Holthof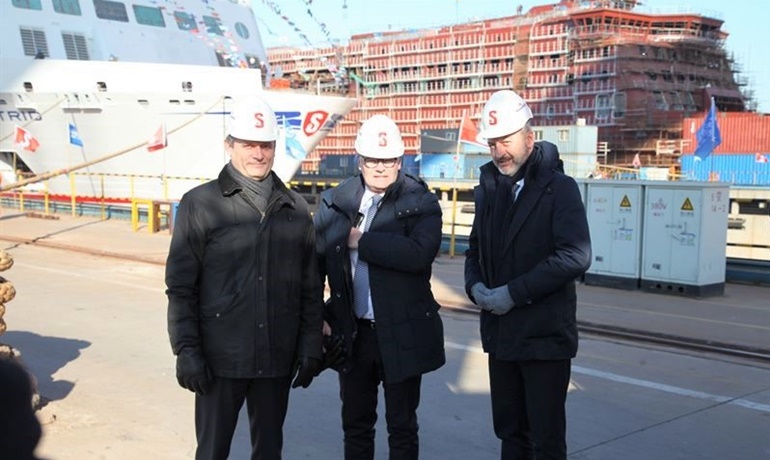 L to R: Per Westling, MD Stena RoRo, Niclas Mårtensson, CEO Stena Line and Christophe Mathieu, CEO Brittany Ferries. At the occasion of the keel laying ceremony of GALICIA, Mr Westling handed over a scale model of the ship to Mr Mathieu. © Stena RoRo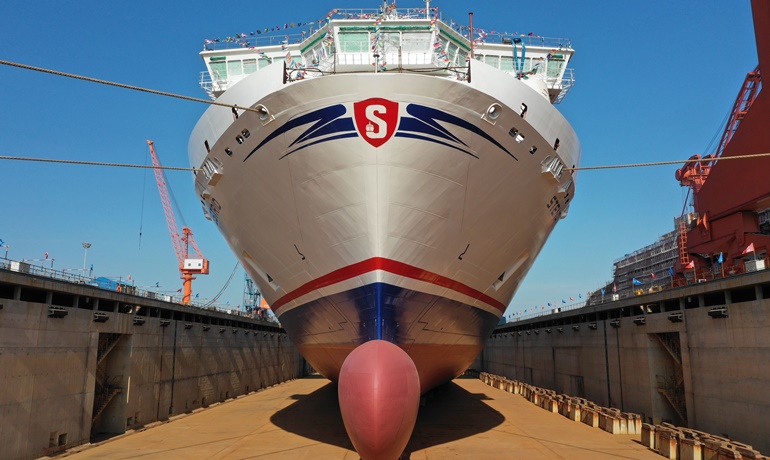 STENA ESTRID in the building dock © AVIC Ship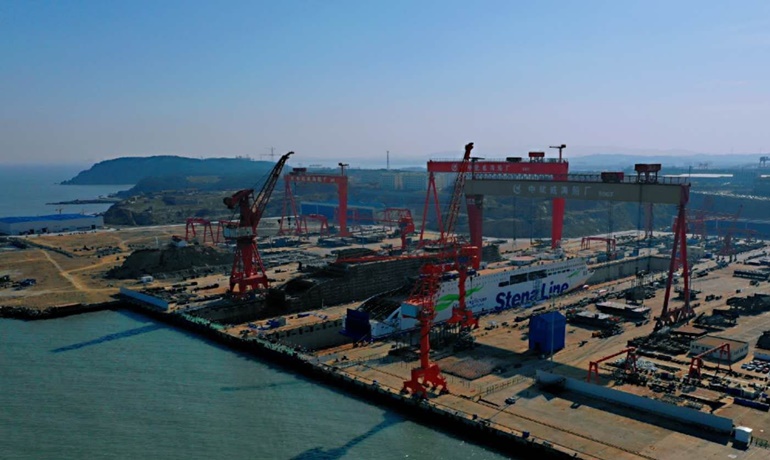 Aerial view of the shipyard in Weihai, the building place of the E-Flexers © AVIC Ship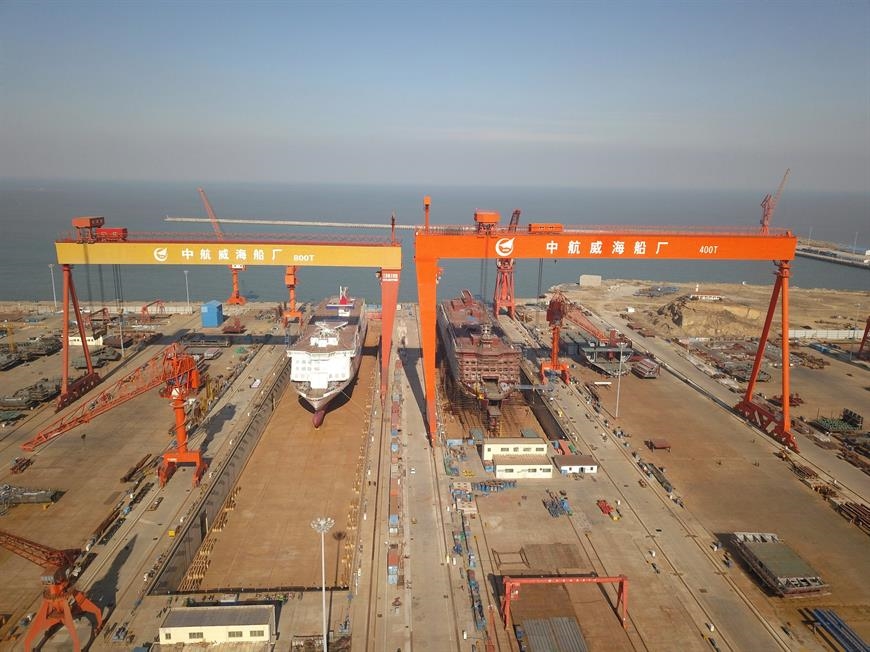 Four E-Flexers are in different construction stages now © AVIC Ship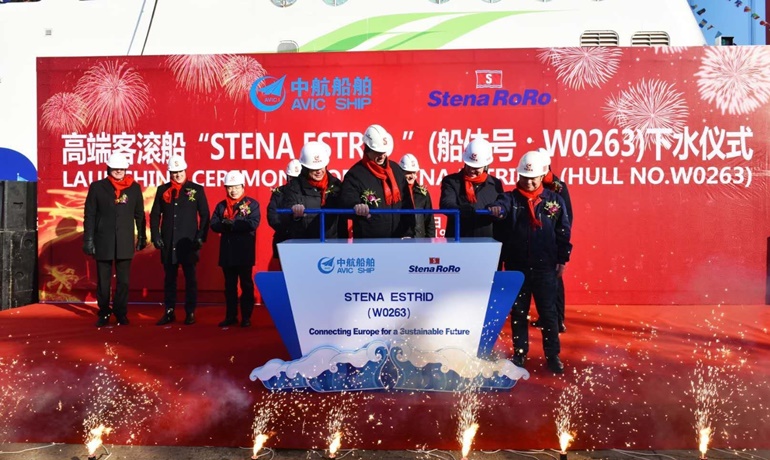 Ready to fill the building dock with water © AVIC Ship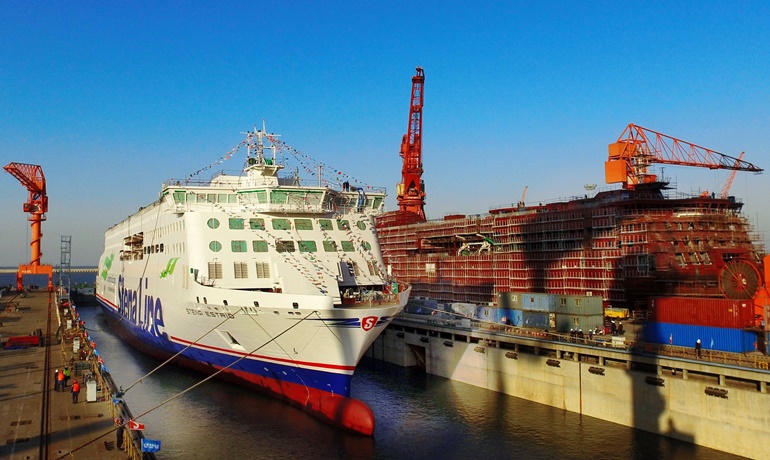 She's floating! © AVIC Ship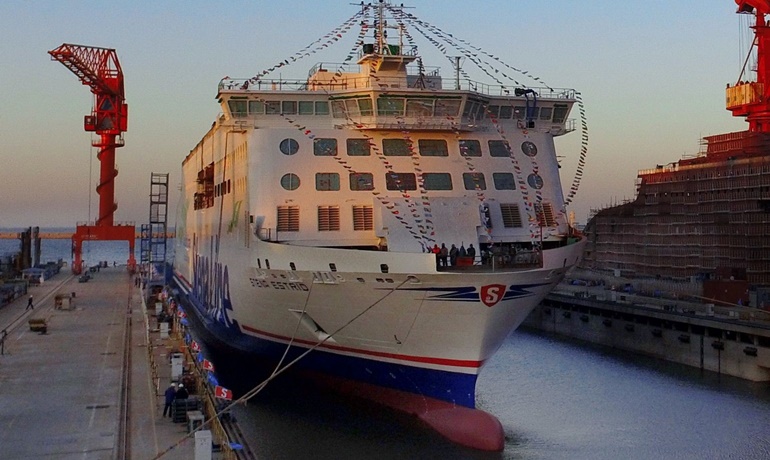 STENA ESTRID will be floated out later during 1Q 2019 © AVIC Ship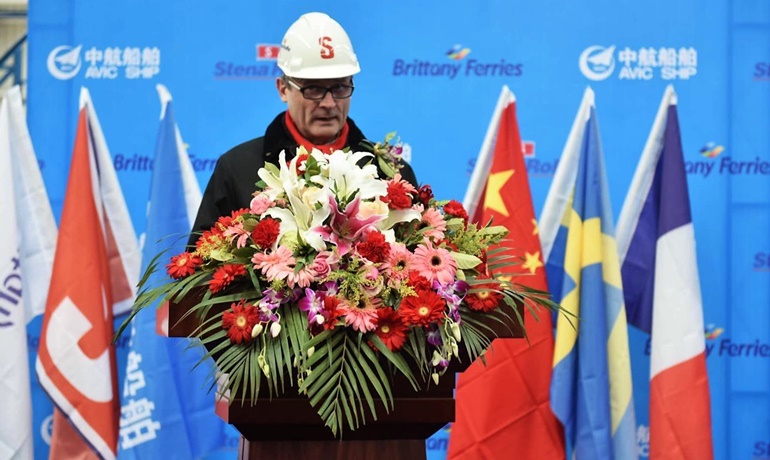 Stena RoRo's Per Westling © AVIC Ship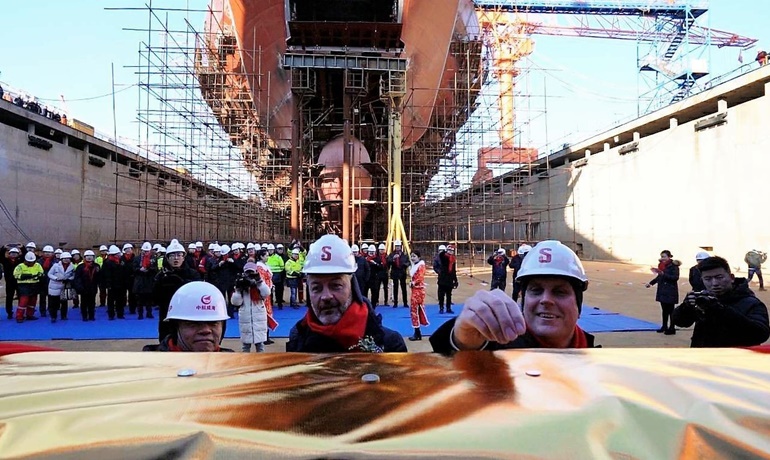 Coin ceremony for GALICIA, yard number W0267 © AVIC Ship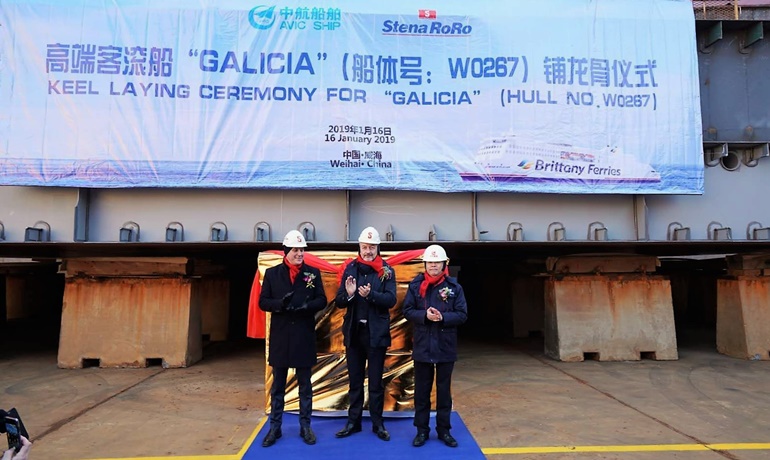 GALICIA keel laying ceremony - Brittany Ferries' Christophe Mathieu in the middle © AVIC Ship
---
Most read
Press Releases
Dec 03 2021
Construction begins of Silversea Cruises SILVER NOVA
---
Dec 03 2021
Contract awarded for piers upgrade for new Islay ...
---
Dec 03 2021
Zinus technology selected for two more norwegian ...
---
See all press releases
Products